Jalapeño Pecan Pancakes
We already had the buttermilk from the Chopped Stetson Salad dressing and a large box of pecans sent to us from Texas (thanks Uncle Kevin), so we decided to continue with our restaurant recreations from our trip to Arizona by cooking up some jalapeño pancakes for brunch this weekend. It was such an interesting flavor combination that we would never would have thought of in a million years, but the spicy, savory addition of jalapeños goes well with maple syrup, and of course, Texas pecans go with just about anything.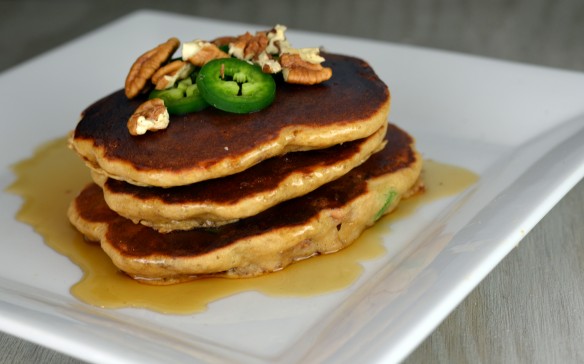 We couldn't stop talking about how much we enjoyed these pancakes all day, plus they leave a nice spice in the back of your mouth, so you won't easily forget them. I made sure to use a lot of baking powder, what I have found to be the key to light and fluffy pancakes. These sure did not disappoint on that front either. And don't forget the buttermilk.
Jalapeño Pecan Pancakes
yields ~7-8 pancakes; serves 2-3 people
1 cup whole wheat pastry flour
1 tablespoon baking powder
2 teaspoons cinnamon
1/2 teaspoon salt
1 cup buttermilk
2 tablespoons brown sugar
1 large egg
1 teaspoon vanilla extract
2 jalapeños, seeded and sliced
1/4 cup pecans, toasted and chopped
1/2 cup pure maple syrup
In a small bowl, combine flour, baking powder, cinnamon, and salt.
In a large bow, combine buttermilk, brown sugar, egg, and vanilla.
Slowly add the dry mixture to the wet mixture, and mix until combined. Do not overmix.
Fold in the jalapeño slices and pecans (reserving a few for garnish).
Allow the batter to rest for 5 minutes.
While the batter is resting, heat a non-stick griddle to medium high.
Ladle batter onto griddle and cook for several minutes until you see bubbles. Use a spatula to flip the pancakes and cook for several more minutes until both sides are golden brown.
Serve with maple syrup and remaining pecans and jalapeño slices.
inspired by Orange Table