Mussels South of Two Borders
Sorry if you accidentally read this yesterday morning. Scheduling error :)
I without a doubt have married the sweetest boy in the world.
This meal had to be made on a certain day, the day I bought the mussels, to ensure their freshness and quality, but by the time dinner came rolling around I really did not feel like cooking at all. I had gone to the gym earlier that afternoon, so maybe I was dehydrated or needed some extra energy, or perhaps the leftover Mediterranean food I ate for lunch that day didn't agree with my stomach, but for whatever reason, I felt weird all over my body and lightheaded. The thought alone of standing in a hot kitchen was enough to make me feel like passing out. But never fear, the mussels didn't go to waste. When Dustin got home and found out how I felt, he insisted on me sitting on the couch and him taking care of all of the cooking.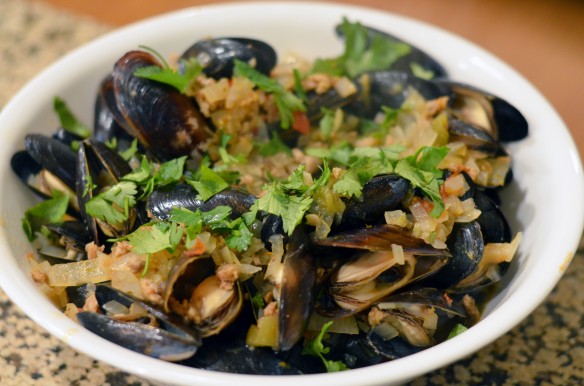 This spicy mussel recipe comes from Eating Well, and I don't know what that one commenter who said that these flavors don't go together is talking about, because they totally do.
Dustin even increased the beer to an entire bottle of Negra Modelo (50% more than was called for in the recipe), and this dish really didn't have any bitterness or even a strong beer flavor at all for that matter, just spicy deliciousness (with extra green chiles of course). These mussels had a much deeper and darker flavor than the last mussels we made. It's crazy how much a simple broth can transform your protein.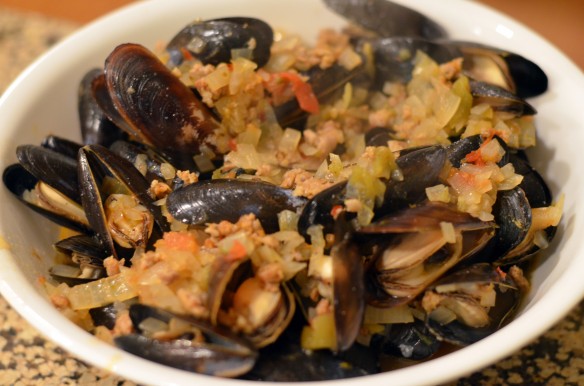 Serve with crusty bread, and you have a great, healthy dinner for two or a fun appetizer for a party.