Mussels + Frites
After a year plus of dinner ideas where I literally had menus planned out a month in advance, I've hit a bit of a mental block. I think my mind has become fixated on all of the desserts I want to make. Desserts are one area where I will never run out of ideas. In fact, I could probably currently plan for an entire year's worth of desserts from now until next Christmas and still would not be able to get everything I want to bake in there. However, I'm trying to take it a little slowly with all of the junk food, as I really am trying to get us eating relatively healthy most of the time. As a result of having some dinner openings on the weekly menu, I asked Dustin for help in crafting recipe ideas, something we used to do together a lot, but now I've mostly taken over due to my obsessive nature with Foodgawker. When presented with the opportunity to plan out a dinner, he responded almost immediately with mussels and frites. I think he was having flashbacks to his delicious mussels and frites dinner at Chambar in Vancouver, covered in bacon and cream sauce! Can't go wrong with that!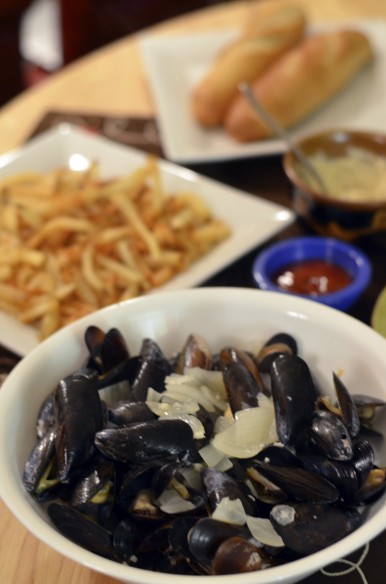 Mussels are something we've never made before, and are somewhat high maintenance. You have to make sure you get them from a reputable place, and you also really want to eat them the day you get them for freshness. Make sure you store them properly and don't eat any mussels that already opened before cooking. That means they were already dead and not good for you.
Mussels are actually quite easy to prepare and really don't take that long to make. The longest part of the process was sorting through all of the mussels to make sure they were good, and then scrubbing them clean. We ordered two pounds of mussels, and probably ended up with about 1 1/2 pounds of useable seafood. Then, basically all you have to do is melt some butter in a pot with a lid, add in some chopped onions and a little garlic (or a lot garlic if you are like us) followed by about a cup of white wine (use the rest for drinking with your dinner) and let them steam for 5 minutes. The mussels release their own juices and form a simple sauce with the butter and white wine that is quite tasty to dunk the mussels (and freshly baked baguette) in. We were trying to think of some other additions to add to the steaming pot to impart a little extra flavor and complexity, but for a simple recipe, this was perfect.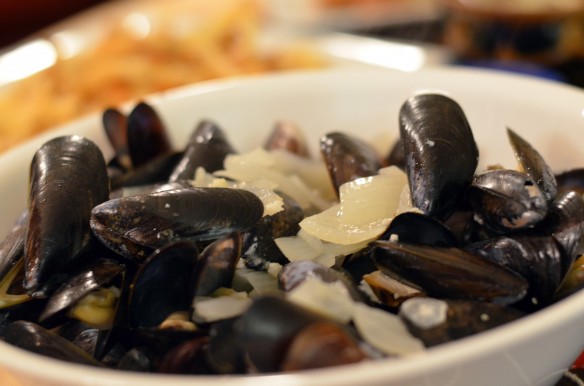 We also cooked up the fries, or frites if you want to sound fancy, which we had cut, fried once, and frozen while making poutine a little while ago. Having the fries frozen and then dropped into the hot oil definitely helps give a crunchier texture. We also did the second fry hotter this time at rougly 375°, which I think contributed to the crunchiness as well. In the future when we make fries, we'll definitely make several batches at once, doing the cutting and first fry all at once and then freezing them. Thanks to all of the work we had already done beforehand and the two of us working together diligently in the kitchen, we had the frites, mussels, baguette, and garlic aioli finished and to the table in about 20 minutes.