White Chocolate Macadamia Nut Cookie Dough Blondies
Basically these are blondie/white chocolate macadamia nut version of these delicious treats. These blondies are equally tasty; however the flavors of the two layers are not nearly as distinct in flavor or visuals as the original, old-school version. The picture in the Cookie Dough Lovers Cookbook shows the disticntion between the layers; however I was not fortunate to have such a perfect looking dessert.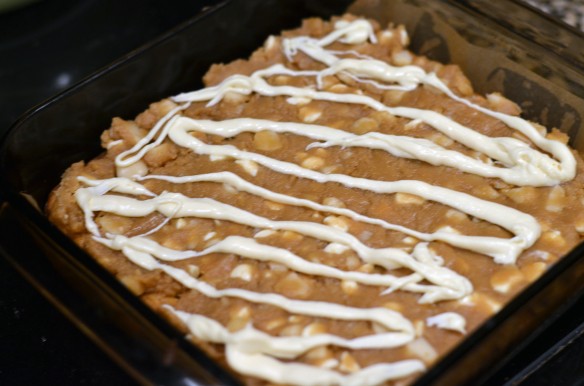 But honestly, who cares? Not me, because it literally felt like you are getting to eat a giant hunk of cookie dough. White chocolate chip macadamia nut cookie dough.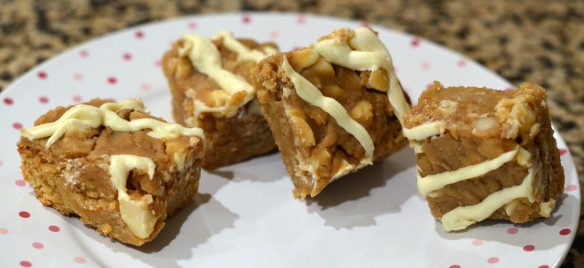 Dustin returned home with empty containers that once contained these blondies, and I can't tell you how many compliments he passed along (and also saying he might have eaten one or two at the office).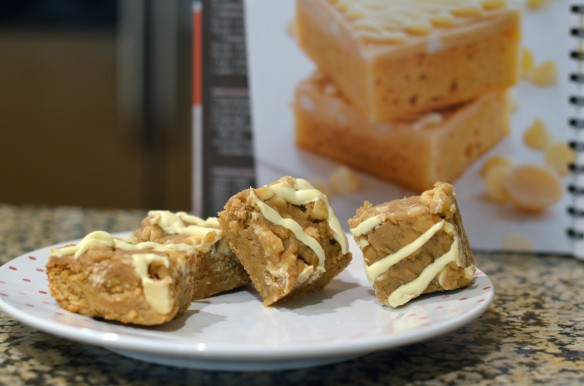 White Chocolate Macadamia Nut Cookie Dough Blondies
yields 1 8"x8" pan (16 squares)
Blondies
5 ounces white chocolate, chopped
1/3 cup unsalted butter, melted
1/4 cup granulated sugar
1/2 cup light brown sugar, packed
2 large eggs
1 teaspoon vanilla extract
1 cup whole-wheat pastry flour
1/4 teaspoon baking powder
1/4 teaspoon salt
Preheat the oven to 350°.
Line the bottom of an 8"x8" baking dish with parchment paper, allowing the parchment paper to hang over two sides.
Melt the white chocolate in the microwave in a large microwave-safe bowl, 20 seconds at a time, stirring after each 20 seconds until the white chocolate is smooth.
Add in the melted butter and stir in sugars.
Add in eggs and vanilla extract, and mix until smooth.
In a medium sized bowl, combine flour, baking powder, and salt.
Add the dry ingredients to the wet ingredients and mix until just incorporated.
Pour blondie batter into pan.
Bake the blondies for 25-27 minutes, or until an inserted toothpick comes out cleanly. The middle of mine looked kind of puffy when it was done, and I worried I had done something wrong, but when it cooled it settled down and looked like a pan of traditional blondies.
Allow the blondies to throughly cool before continuing.
Cookie Dough
1/4 cup unsalted butter, room temperature
2 tablespoons granulated sugar
1/4 cup light brown sugar, packed
1 tablespoon milk
1/2 teaspoon vanilla extract
1/2 cup whole-wheat pastry flour
pinch of salt
1/4 cup white chocolate chips, chopped in half
1/4 cup macadamia nuts, quartered
Cream together the butter and sugars with an electric mixer in a medium sized bowl until fluffy.
Add in the milk and vanilla extract, continuing to mix until uniform.
Add in the flour and salt and mix until a sticky dough forms.
Fold in white chocolate chips and macadamia nut pieces.
Place the dough in the fridge for about 20 minutes, so it firms up and is slightly easier to work with.
Press the cookie dough over the top of the cooled blondie layer.
Topping
1 1/2 ounces white chocolate, melted
Drizzle melted white chocolate in decorative lines atop the cookie dough layer and allow to sit in the fridge for at least an hour to set.
Grab the edges of parchment paper and remove the block of blondies from the pan.
Use a sharp knife to immediately cut the block into 16 squares.
Store in an airtight container in the fridge for up to 3 days.
slightly modified from The Cookie Dough Lover's Cookbook