Cheesy Bacon Ranch Pull Apart Bread
Super Bowl party hit #2. Just by the name, you could tell this was going to be good.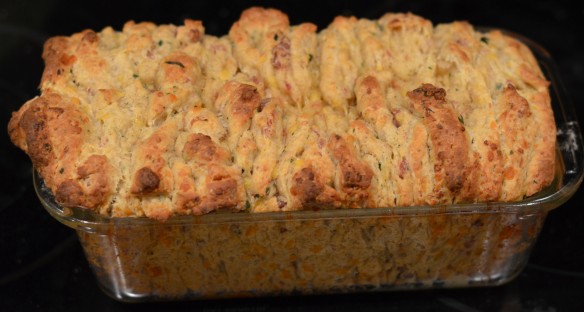 I want to make sure Dustin gets full credit for making this bread. I do make all of the desserts around here, but Dustin makes a lot of things in the kitchen as well. A lot of times people assume that I make everything, so I get showered with praise even though Dustin's been a big part of the creation as well. Lately he's been doing even more with me spending most of my afternoons preparing for graduate school interviews. This loaf of deliciousness was ALL him, and I made sure everyone who tasted that loaf of deliciousness knew it was him. When we planned our appetizers to bring, I wanted to just make a simple and easy dip. Ambitious Dustin had seen a recipe for Cheesy Bacon Ranch Pull Apart Bread that he wanted to bake. So Dustin busted out the yeast and did all of the hard work himself the morning of Super Bowl Sunday. I decided not to be his sous chef this time around because I felt a little under the weather and thought I shouldn't be handling the dough.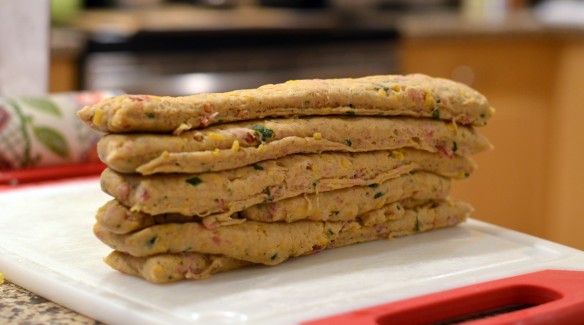 Dustin didn't put the full amount of cheese called for because it seemed like a lot. I think if he were to make it again, he'd make it full cheese. Even though his version wasn't quite as cheesy as it could have been, it still got some pretty rave reviews.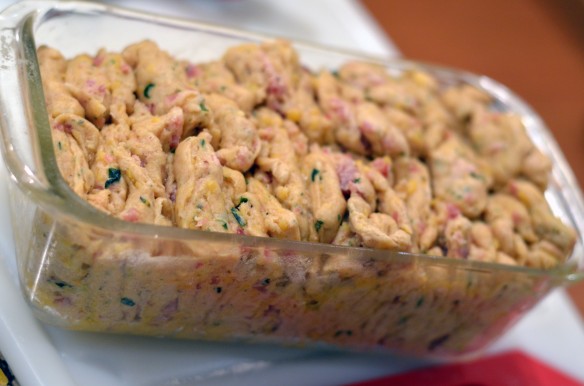 Our friend called me and Dustin the "Culinary Power Couple" following consumption of this bread and all of the desserts I have forced upon her. I'll definitely take that as a high compliment! :)
Bonnie was cold, so we had to put her all under the blanket.