Homemade Vanilla Marshmallows (Plus S'mores)
Last weekend we went to a Microsoft holiday party (a month after the holiday, but a holiday party nonetheless). I still haven't figured out how Microsoft (or at least Dustin's area of the company) throws a party. This year's theme was a masquerade ball. In theory it was fun, but the execution was not the greatest. Someone dressed as Buddy the Elf was running around acting crazy (the party was 21+) and they had the most random activities like shooting mini marshmallows from a bow and arrow.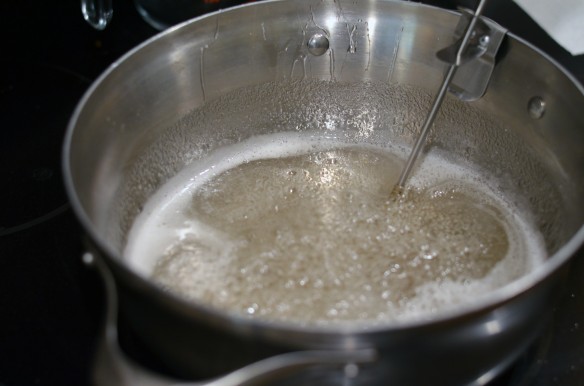 The party was divided into rooms— one of which was The Lounge— that was supposed to have this rustic wood feel to it, complete with campfire and pine tree decor, and the best of the whole party: a s'mores station (right next to hummus...I don't exactly get the relationship). Eating the s'mores at the party reminded me that homemade marshmallows were on my list of things to make this winter, and seeing as that I'm beginning to prepare my spring and summer dessert lists, I figured I better get on the marshmallow making quite soon. I originally intended to make the marshmallows when I made the coconut hot cocoa, but I didn't have the time.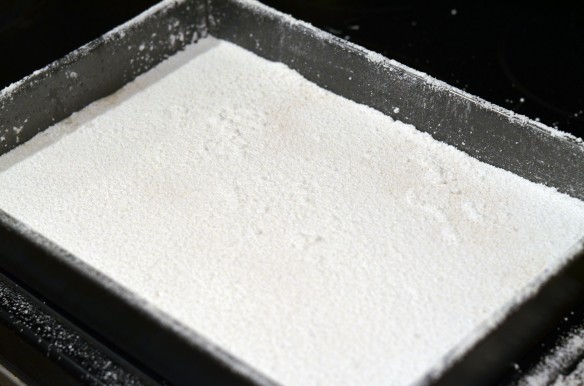 I wasn't marshmallow crazy growing up— I liked a couple in my hot chocolate, or every once in awhile I'd get a craving, buy a bag and then proceed to eat about three before throwing them away. Marshmallows never really satisfied me. However, I had never had gourmet (AKA homemade without preservative crap) marshmallows, which are absolutely amazing. Whole Foods makes some delicious ones, but they are crazy expensive for a little bag. Now I can make my own. These marshmallows have a classic vanilla flavor, and are infinitely better than anything you'd buy from Safeway.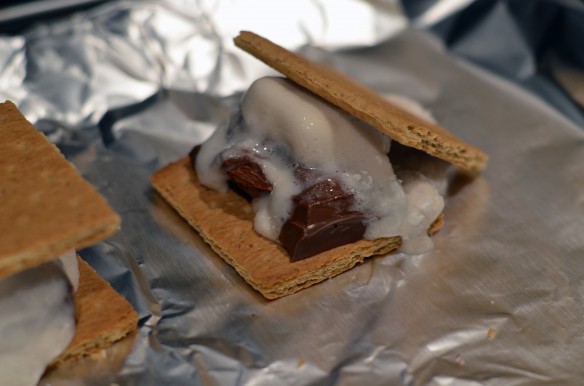 I followed the springy, fluffy marshmallow recipe from Smitten Kitchen (I also just received my SK cookbook in the mail from Amazon, and it looks ah-mazing!), and I was pleased with my results. With the help of a candy thermometer and organized and planned mise en place, homemade marshmallows are actually so much easier than I ever thought (although the texture of mine wasn't quite as great as the ones from Whole Foods, but perhaps practice makes perfect).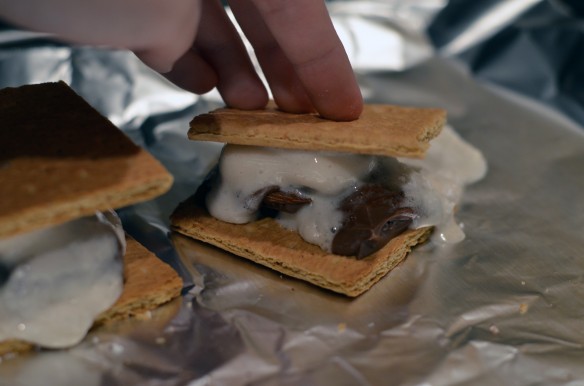 We had some really good honey graham crackers and a pound sized bar of milk chocolate with almonds from Trader Joe's (a Christmas present from our neighbors who know I love sweets), so we made our own s'mores, broiled in the toaster oven. As opposed to getting slightly burnt on the edges, the marshmallows just melted into a mess. A delicious mess of a dessert sandwich. If this was the kind of s'more I'd have had as a kid, you better believe that I'd have been a convert!
I'll definitely have to revisit next fall/winter with other flavors— I'm thinking that pumpkin, almond, coconut, and peppermint varieties will all be in the works.