Molten Chocolate Lava Cake
You know that moment when you bite into a restaurant's top dessert, and your eyes roll back in your head. Your taste buds enlighten, and it all comes together in perfect harmony. I have to give props to Erin. Her latest dessert has completly elicited this reaction from me.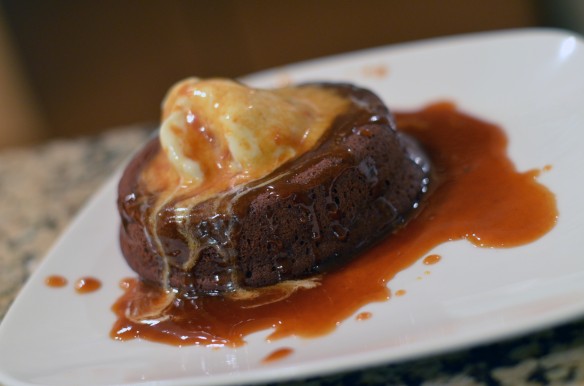 When I sliced into her chocolate cake, and the molten chocolate oozed out, covered in delicate caramel sauce and melting ice cream, all I could muster was a muffled 'oh my god.' It's all I could say before scarfing down another bite.
Erin is boarding a plane to New York City as you are reading this, so we celebrated our first Valentine's Day as husband and wife a day early.
The outside layer is a perfect chocolate cake, but when you push your fork into it, chocolate lava flows out. Chocolate lava cakes are pretty much on every fancy restaurant menu, and they seem difficult to make. They aren't though. They are basically just undercooked chocolate cakes, but they are just rich and decadent that they seem fancy no matter what. Make sure you use good chocolate. We used Ghiradelli 72% cocoa Twilight Delight dark chocolate squares.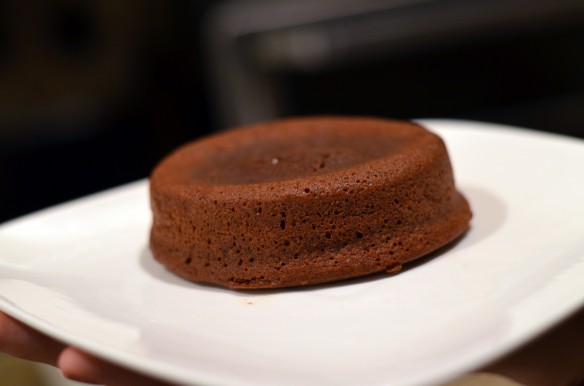 The only problem is that the ice cream melts so quickly on top of the hot cake. It made it pretty difficult to get a good picture. You basically end up with your cake in a creamy, caramely puddle that you'll want to lick straight from the plate. This dessert is the ultimate way to celebrate Valentine's Day with your sweetheart and will make you ridiculously happy as you sit together in a, totally-worth-it, sugar-induced coma.
There is a standard recipe online that everyone who makes this dish pretty much uses. There's a reason why. You should probably just share one, but you will easily be able to eat one all yourself. Calories don't count on Valentine's Day, right?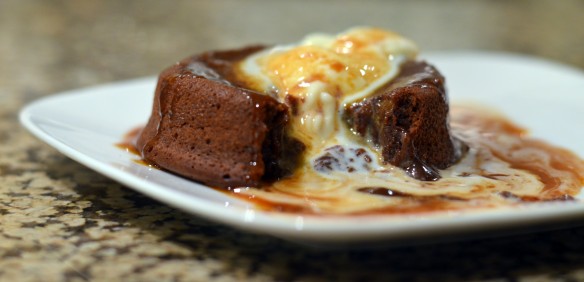 Chocolate Molten Lava Cakes
yields 2 cakes
1/4 cup unsalted butter
2 ounces dark chocolate
1/2 cup powdered sugar
1 large egg
1 large egg yolk
3 tablespoons all-purpose flour
cooking spray
vanilla ice cream
Preheat the oven to 425ºF.
Liberally spray two oven-safe ramekins with cooking spray.
Melt butter and dark chocolate together in a medium-sized microwave-safe bowl until melted. Mix until smooth.
Add in the powdered sugar, egg, yolk, and flour until smooth.
Pour into ramekins and bake for 12 minutes until the center is soft, yet not jiggly.
Allow the cakes to cool for two minutes and invert on a plate.
Top with ice cream and caramel sauce.
Go eat your lava cake before the ice cream melts!
There will be posts for a few more days, but our eating schedule will be seriously disrupted with all of Erin's traveling. Wafoodie will be taking short break, but don't worry, we'll be back soon!