Salted Vanilla Bourbon Caramel Sauce
During our trip to the Northwest Chocolate Festival last September, we sat in on a tutorial on how to make salted caramel sauce. I had some cream in the fridge with no other planned purpose, just waiting to expire. With Valentine's Day coming up next week, I figured I could come up with a special dessert to incorporate caramel sauce into. Sounds like a job I am up for! Instead of making plain salted caramel sauce, I added vanilla extract and bourbon to make it pop, but those things could totally be left out if desired.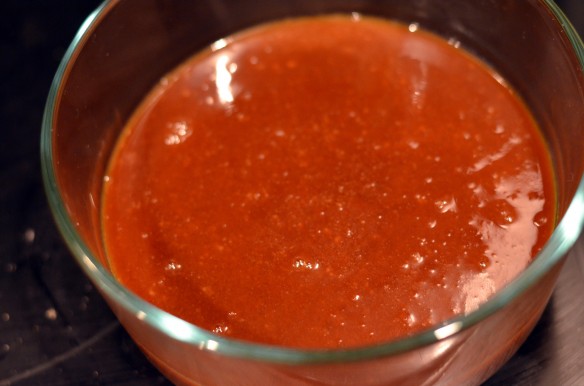 I let the sugar burn slightly longer than I intended it to, so it's almost a burnt caramel sauce. But almost burning it gives it a richer and more complex flavor that I really like, and would taste equally yummy on top of ice cream or cake. But just a word of caution, once the white sugar begins to brown, it goes to dark amber really fast. Watch out!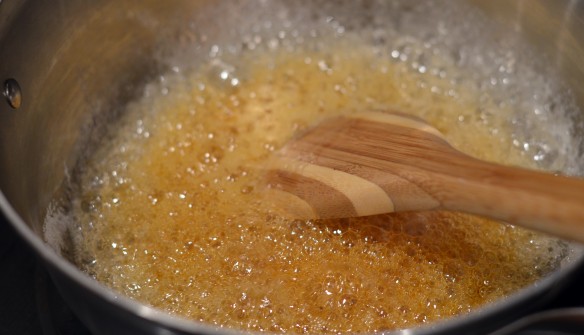 I didn't take the best notes at the convention, so I did a little bit of research on how to make caramel sauce and came up with my own ratios. I'd say it was a great success! Stay tuned for a Valentine's Day to see how I use this. We'll be celebrating early since I'm leaving for New York at 7 AM on Valentine's Day.
Salted Vanilla Bourbon Caramel Sauce
makes ~1 1/4 cups
1/4 cup water
1 1/4 cups sugar
3/4 cup cream
3 tablespoons unsalted butter
2 teaspoons sea salt
2 tablespoons bourbon
2 teaspoons vanilla extract
In a large, heavy bottomed sauce pan, heat the water and sugar over high until it is brought to a boil.
Once the sugar caramelizes and becomes a dark brown color (around 10 minutes), remove the mixture from the heat.
Using a wooden spoon, mix in the cream and whisk in the butter until smooth.
Add in the sea salt, bourbon, and vanilla extract. Mix well.
Pour into a glass container and allow to cool for an hour. Store in the fridge for up to two weeks. You can reheat it in the microwave, stirring frequently.