Saag Paneer
We have absolutely fallen in love with Indian food after living in Seattle. Dustin even took me to an Indian cooking class for a birthday present in December. Now we've decided to experiment with Indian cooking at home. We stocked up on all of the spices, and boy, do they make the apartment smell wonderful. I think I could sprinkle garam masala on everything.
I think this dish might actually be palak paneer, seeing as the only greenery in this dish is spinach (AKA palak). Officially saag paneer incorporates mustard greens and fenugreek leaves as well as spinach if my research is correct, but for the most part, I think the saag paneer we eat at restaurants is just spinach. EIther way, this dish consists of creamy, wilted spinach covering chunks of mild Indian cheese. Spoon it on to naan, and you've got a delicious Indian dinner. Now we'll have to experiment with how to make naan. I can't imagine it being too different from pita bread, something Dustin has already tackled on his own.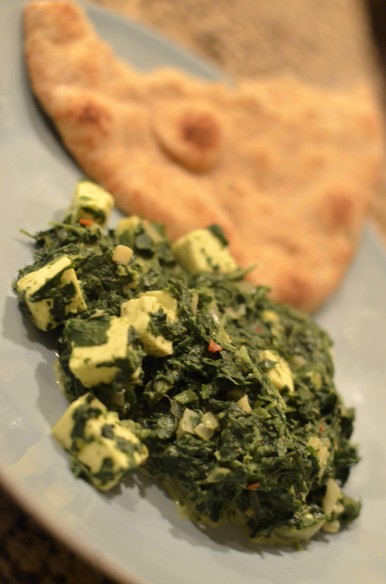 Expect more freshly made Indian food coming from our kitchen in the near future!
Saag Paneer
serves ~3
1 tablespoon olive oil
1 tablespoon cumin
4 cloves garlic, chopped
1/2 medium onion, chopped
1/2" piece fresh ginger
1 16-ounce bag frozen spinach, chopped
1 tablespoon garam masala
1 teaspoon red chili flakes
1/2 pound paneer, cubed
2/3 cup fat-free half and half
salt
Heat oil over medium heat.
Add in cumin, garlic, and onion and cook until fragrant.
Add in ginger and spinach.
Season with garam masala and red chili flakes.
Once spinach reaches desired wilted texture, add in the paneer and the half and half.
Season with salt (be generous, or it will be bland) and continue to stir until thoroughly heated.