Banana Bread French Toast
I don't think I can ever eat French Toast made with regular bread again. Or banana bread not drizzled in warm maple syrup.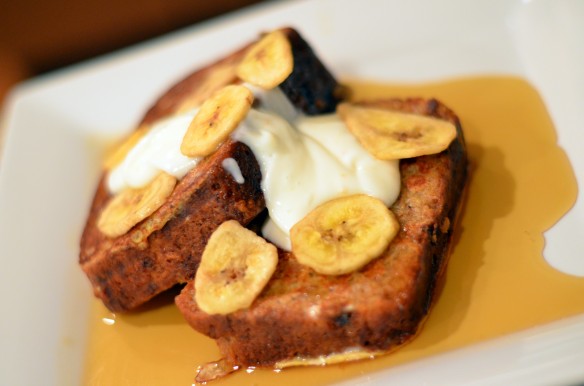 Basically take your favorite banana bread, or whichever kind of banana bread you happen to have lying around the house (cookie butter banana bread, I'm looking at you) if you are like me and never bake the exact same thing twice.
Leave a few thick slices (at least 1 1/2") of old banana bread covered with a towel overnight, so they get slightly stale but aren't too exposed to the elements. The next morning, heat up the griddle, make a mixture of two eggs, 1/2 cup milk, and a little bit of cinnamon and sugar to submerge the bread slices into. Once the bread has absorbed the mixture, throw those babies on griddle and watch them brown.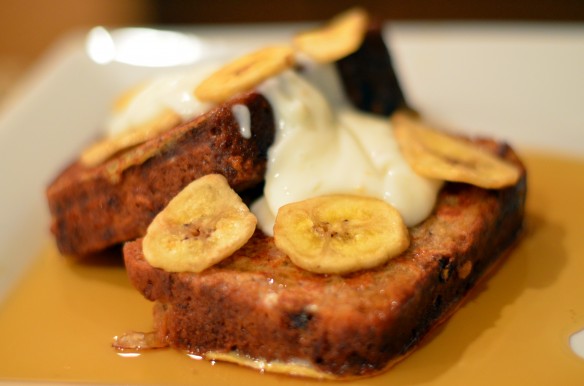 In the mean time, warm up some maple syrup and whip up some sweetened almond-orange sour cream. Normally I wouldn't use sour cream for something sweet, but we had it in the fridge, and I'm trying to do a better job using everything we buy each week. So use a hand mixer to whip up 1/2 cup of sour cream with 1/4 cup granulated sugar along with some orange zest and a dash of almond extract. Taste as you go along, adding more sugar, almond extract, etc. Dustin wasn't sold on the idea of putting sour cream on his French Toast at first, but once he tasted he was definitely on board. After the success of Banana Bread French Toast, I think every time I make a bread or cake, we should turn the leftovers into an indulgent breakfast!
Top everything with banana slices, and you have a rich and decadent breakfast that comes together super quickly on a weekday morning (given you've already baked the banana bread, of course).