Cookie Butter Banana Bread
Banana bread is so simple, yet one of my most favorite things to make (and add twists to). I love experimenting with different banana bread recipes to find the perfect, moist yet not soggy bread. I waited and waited for the bananas on my counter to ripen to the point that it was time to turn them to banana bread. Just looking at those bananas everyday, I could practically taste the banana bread in my mouth.
For this experimentation, I made a cookie butter banana bread using completely my own recipe and a jar of Trader Joe's Cookie Butter Spread (same things as Biscoff spread). Imagine peanut butter banana bread, but replace the peanut butter flavor with gingerbready, cinnamon cookie flavored goodness.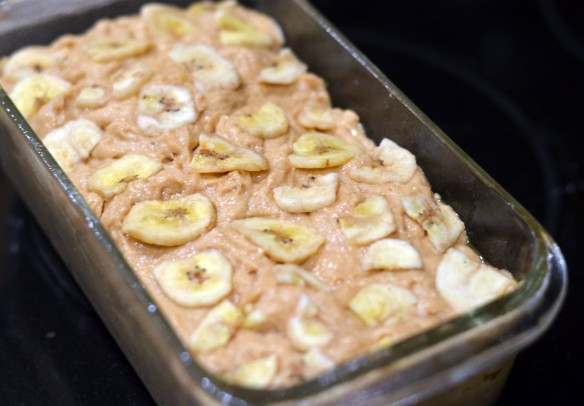 I must have a thing for leaving eggs out of quick breads because I did it before, and I did it again. Oops.
This bread probably would have been amazing topped with crushed Biscoff cookies, but I didn't have any of those (I knew I should have asked for cookies on my Delta flight and then saved them a few weeks back), so instead I topped the bread with dried banana slices.
Cookie Butter Banana Bread
yields 1 9" loaf
1 cup all-purpose flour
3/4 cup whole wheat pastry flour
1 1/2 teaspoons baking powder
1/2 teaspoon baking soda
1 teaspoon ground cinnamon
1/2 teaspoon ground ginger
4 medium very ripe bananas, mashed
1/2 cup sugar
1/4 cup sour cream (or Greek yogurt)
3 tablespoons butter, melted
1/2 teaspoon vanilla extract
1/4 cup dried banana slices
Preheat the oven to 350º.
In a medium sized bowl, sift together the flours, baking powder, baking soda, cinnamon, and ginger.
In a large bowl, combine mashed bananas, sugar, sour cream, butter, and vanilla with a mixer until smooth.
Slowly add the dry ingredients to the wet ingredients and combine until uniform.
Pour into a greased 9"x5" loaf pan.
Top with dried banana slices.
Bake in the oven for 60 minutes or until a toothpick inserted in the middle comes out cleanly.