Fudgey Thin Mint Brownies
Traveling for nearly three straight weeks was disorienting, and I'm finally feeling up to cooking and baking again. We literally had next to zero food in the house and have been eating all of our dinners out. Of course, we always have pantry staples, and I came back with a couple of boxes of Girl Scout cookies after my visit to Indiana. I figured Dustin's co-workers might have missed their weekly treats, so I made them Fudgey Thin Mint Brownies. I didn't want the brownies to rise, so I excluded baking powder or baking soda. I also decided to use a different methodology— using boiling water which I had previously seen in another brownie recipe.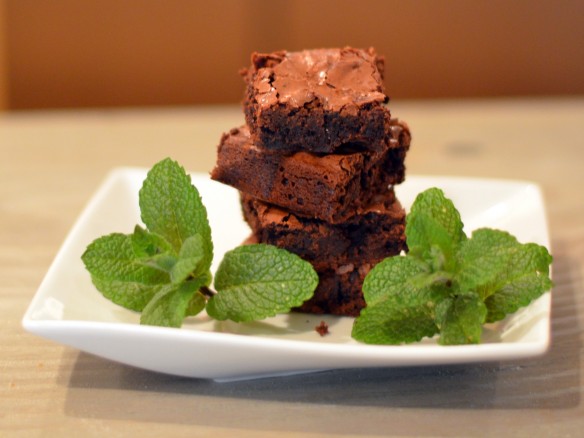 Fudgey Thin Mint Brownies
1/2 cup boiling water
3/4 cup cocoa powder, unsweetened
1/2 cup canola oil
2 cups sugar
2 eggs, room temperature
3/4 teaspoon vanilla extract
2/3 teaspoon peppermint extract
1 1/2 cups flour
1/2 teaspoon salt
1 sleeve Thin Mint cookies, chopped
Preheat the oven to 350°. Spray a parchment paper lined 9"x13" baking dish with cooking spray.
Combine the boiling water, cocoa powder, and canola oil in a large bowl using a hand mixer, continually scraping down the sides of the bowl with a spatula.
Add in the sugar, and eggs, one at a time, followed by the peppermint and vanilla extracts, blending until smooth.
Slowly add in the flour and salt, continuing to mix until just combined.
Fold in the chopped Thin Mints with a spatula.
Pour the brownie batter into the pan and bake for approximately 3o minutes.
Allow brownies to cool completely before removing them from the pan (using the sides of the parchment paper as handles). Then slice and serve!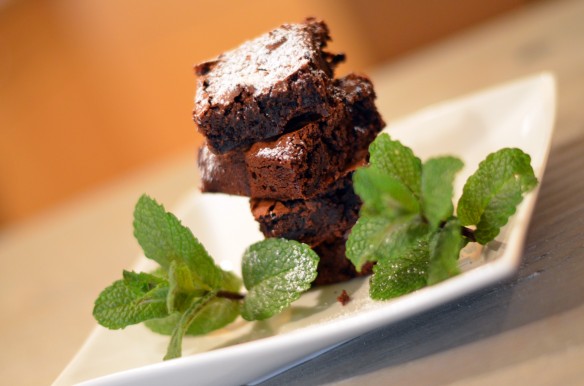 Baking has been my therapy for the last year as I've been figuring out what I want to do with my life, and these brownies are just the beginning of my therapy to help me choose where I should attend graduate school. The more I try to figure out the best place for me, the more confused I become. I thought I had everything figured out, then I wrote out a pro/con list, which completely morphed my mind back into utter confusion. I'm selecting between two great programs with great advisors doing really interesting research. It's going to be next to impossible to turn down either offer. It doesn't hurt that I'm having to decide between awesome cities— Los Angeles and New York City— both with awesome food scenes, so that's at least a plus. But seriously, could we have a more cliche decision to make— east coast vs west coast? Each program is so starkly different, but either would be an amazing experience. This decision will affect at least the next 5 years of our lives, and there is so much to consider from cost of living and stipends (vastly different between a public state school and a well endowed Ivy!), program ranking, Dustin's job opportunities, and just our overall happiness (as well as Bonnie's— would she like snow or the beach better?). I know I can't go wrong with either decision (or at least that's what I have been told), but one decision is definitely "more right," and I feel that no matter what decision I choose, I will always wonder what if I had chosen the opposite. I have never felt more overwhelmed with making a decision in my life. Selecting my undergraduate university was easy. Deciding to marry Dustin and move to Seattle with him was easy. But this decision is giving me crippling anxiety and panic attacks. I don't want to hold up my reserved position at either school for people on the waiting list, but I truly feel so torn at the moment and want to make sure I make the right choice. Sometimes I think it would be easier if I hadn't applied to such amazing schools, but ultimately I feel very blessed to be in this difficult position.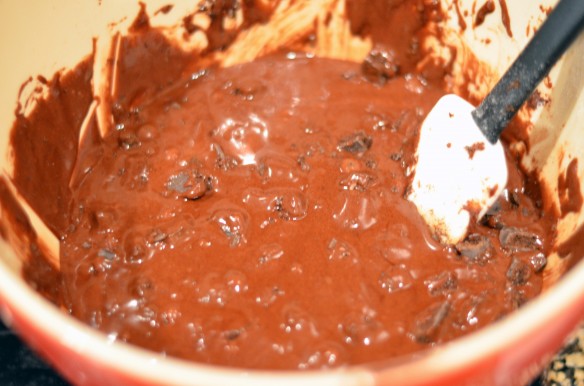 I can't believe in 6 months, we'll be living in a new city, and I'll be starting a Ph.D. program! As terrifying of a process this is at the moment, that fact is really exciting (despite taking away from my much loved cooking/baking/blogging time)!