Ricotta Dumplings with Italian Chicken Sausage
I guess these are kind of like ricotta gnocchi, but they are bigger so they will be referred to as dumplings instead. Basically this is like Italian chicken and dumplings, slightly modified.
We planned on making homemade tomato sauce but wimped out and opened a gourmet jar of garlic and chanterelle tomato sauce from Whole Foods to which we added some fresh basil. It was absolutely delicious, and I'm not so sure homemade would have been much better. I really feel the quality of our dish was something that could be served at a legit Italian restaurant.
The dough seemed pretty sticky at first, but I resisted the temptation to dump in more flour and cheese and instead just sprinkled flour on the dumplings and they ended up having a really great texture. Good call there.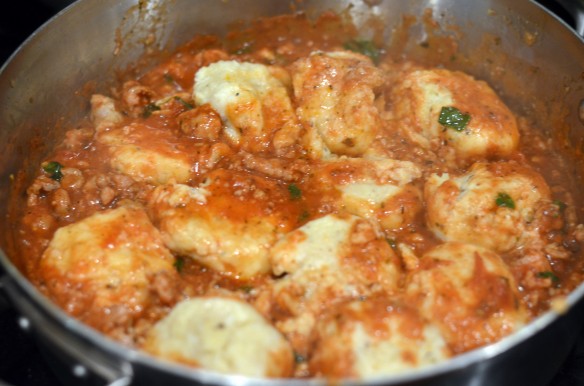 Ricotta Dumplings with Italian Chicken Sausage
serves 3-4
1 pound part-skim ricotta
1 egg + 1 yolk, beaten
1/2 cup flour, plus more for sprinkling
3/4 cup shredded parmesan cheese, plus more for sprinkling
2 teaspoons dried basil
2 teaspoons dried oregano
salt and pepper, to taste
2 links Italian chicken sausage (~2/3 pound)
1 jar tomato sauce
4-5 fresh basil leaves, torn
Bring a large pot of water to a boil.
Combine the ricotta, egg and yolk, flour, parmesan and spices in a large bowl until smooth.
With floured hands, create 12 balls (~2" in diameter), sprinkling them with a bit more flour and place them on a wax paper lined baking sheet.
In a large skillet, break up the sausage and cook thoroughly.
At the same time, heat the tomato sauce in a small sauce pan and add torn basil leaves.
Drop the dumplings into boiling water and allow to cook for 5-6 minutes (don't grab them when they start floating to the top or they will be undercooked).
Dump the sauce into the skillet with the cooked sausage, then carefully the transfer the dumplings to the same skillet and coat with sauce.
Plate, sprinkle with parmesan, and serve.
adapted from Bon Appetit Magazine
Bon appetit!