Breakfast Quesadilla
I love cooking homestyle breakfasts before work. This one was an intense amount of work with explosive flavor and all it required was 30 minutes. This breakfast quesadilla consists of a few delicious ingredients:
Homemade hash browns
Thick-cut applewood smoked bacon
Sunny-side up eggs
Green chile tortillas
Tomatillo salsa
Monterrey Jack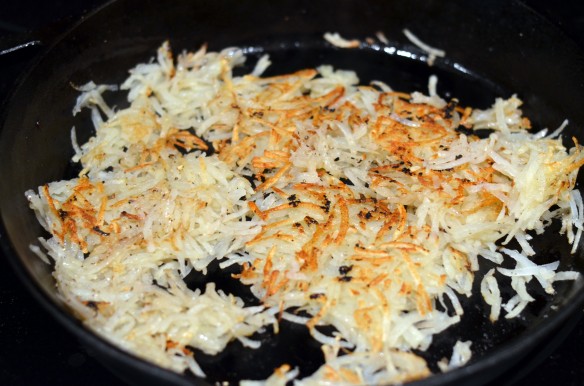 I started off with cooking my bacon on a skillet early. This gives your bacon enough time to cook and cool, so it times well with the rest of the quesadilla. It also leaves your skillet covered in bacon fat, which lets you cook your hash browns and eggs in bacon fat (absolutely necessary)!
Hashbrowns are actually incredibly simple, and making them fresh is so much better than bothering with the crappy frozen ones from the store. Peel a potato, grate it, and then place the grated potato in a ricer. Don't actually run the potato through the ricer. Just squeeze it and get as much liquid out of the potato. Throw the potatos onto a skillet (with bacon fat) and cook until golden.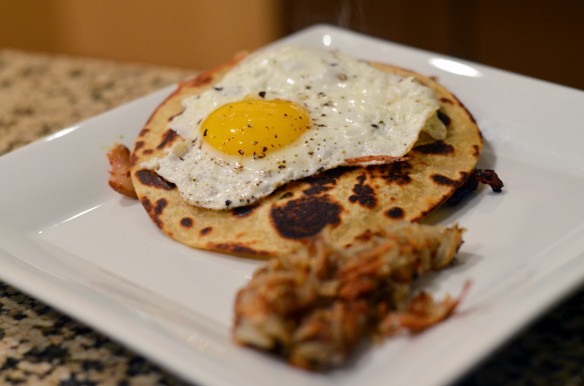 A critical step now in making quesadillas is to get a skillet pan nice and hot. Throw a slice of butter on it and quickly get one tortilla on top and spread the butter around. Flip and coat the other side with butter too. Flip a few more times to warm up the tortilla and then take it off the pan and repeat with the rest of the tortillas. This step gets all your tortillas well buttered and warm so they can crisp up nicely for the final cooking.
Assembling the quesadilla is simple too. Tortilla, cheese, salsa, hash browns, bacon, cheese, tortilla. Lay a perfectly cooked sunny side up egg on top. Dig in. You won't be disappointed.