English Bangers & Roasted Garlic-Brown Butter Mash
Passing by Uli's Famous Sausage in Pike's Place, I noticed some English Bangers, which sounded like a delicious and easy weeknight meal to me.
But instead of plain mashed potatoes, I decided to fancy them up by roasting a head of garlic in the oven and browning some butter on the stove to toss into the potatoes. We also used half and half instead of milk. After Joel Robuchon style mashed potatoes (made with cream and a heck of a lot more butter) these are definitely the best mashed potatoes we've made. Using the ricer really helps make them a nice texture.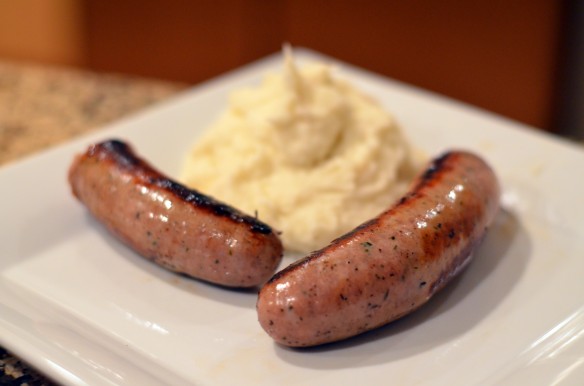 The English bangers had a great flavor to them without any sauce. We were super pleased with this easy entree!
Roasted Garlic-Brown Butter Mashed Potatoes
serves 4
1 1/2 pounds of Russet potatoes, peeled
2 tablespoons browned butter, melted
2/3 cup half-and-half, warmed
6-8 cloves roasted garlic, chopped (cut off the top of the head, rub olive oil on the tops, then bake in the oven at 400º wrapped in aluminum foil for 40 minutes)
freshly ground salt and pepper, to taste
Chop potatoes into evenly sized chunks. Barely cover with water and bring to a boil. Add in a pinch of salt.
Reduce to simmer and cover. Simmer for approximately 25 minutes or until potato chunks are soft.
Drain potatoes.
Run through ricer (or use hand mixer) and then whisk the potatoes, slowly adding butter and half-and-half until fluffy. Add more half-and-half if needed to reach desired consistency.
Toss in roasted garlic and season with salt and pepper.