Fruity Cereal Milk
Although Dustin and I are both excited about our upcoming move, both of us are to some degree a little disappointed we won't be living in New York City. I think the top reasons are bagels, Reubens from Katz's Deli, and Momofuku Milk Bar. Everything I've made so far from the Momofuku Milk Bar cookbook has been delicious; however, they haven't been as good as the real deal Momofuku treats we sampled while in NYC. They are still quite delicious (this one might be blamed on the fact that we used 2% rather than whole milk), and Dustin has been begging to recreate the fruity cereal milk we guzzled down at their Upper West Side location back in February. Cereal milk basically tastes like the milk that has been sitting at the bottom of your cereal bowl and you drink down at the end. It's super sweet and super tasty. In this case, it's also super fruity since we used Fruity Pebbles. But in reality to make this fruity treat, you could use Froot Loops, Trix, or any other myriad of those boxes from the cereal aisle.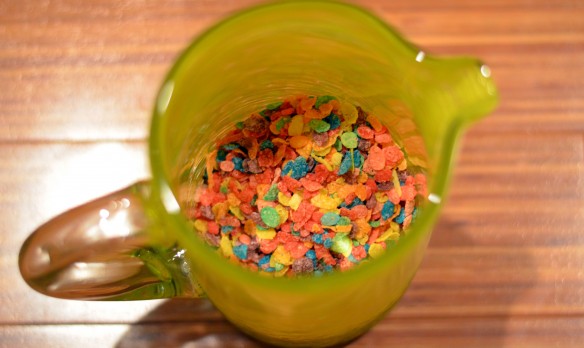 In my opinion, cereal milk tastes best the second day after it has had a chance to sit in the fridge for a day. I think we'll have to try to make regular cereal milk (corn flakes) sometime soon or one of the other recipes that incorporates cereal milk.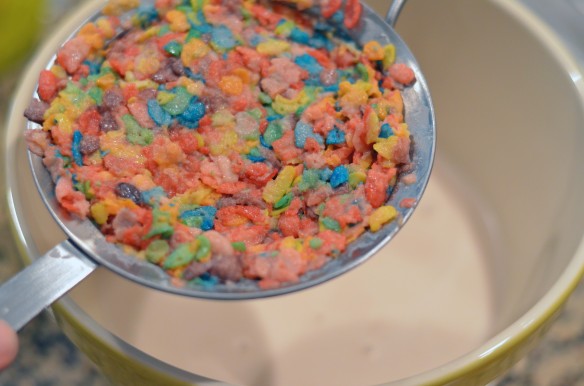 Fruity Cereal Milk
from Momofuku Milk Bar Cookbook; makes 2 1/2 cups
3 3/4 cups milk (we used 2%— though, the richer the better)
2 3/4 cups Fruity Pebbles
2 tablespoons brown sugar, packed
1/4 teaspoon salt
Add milk and cereal to a large pitcher. Allow the cereal to steep for 20-30 minutes (the milk will turn a light pink color).
Strain the milk through a fine mesh sieve into a large bowl. Press gently on the cereal as it catches in the sieve to wring the milk from the cereal, but do not press any of the cereal pieces through.
Add in brown sugar and salt. Mix vigorously.
Rinse the previously used pitcher and return the milk to the pitcher. Cover with lid or plastic wrap and store for up to a week.