Empire State of Mind
Dustin and I spent a whirlwind long weekend together in New York City. Now I'm back for just a couple of days before heading out of town again. Being courted and getting to go on free trips is fun, but exhausting. And definitely not conducive to baking!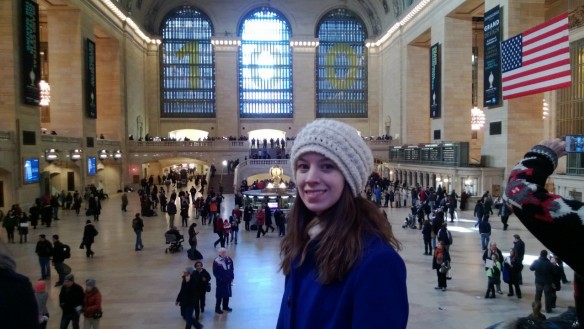 Our trip was full of visiting his cousin, lots of walking, lots of cold, a little sleep, and way too much good food!
Dustin took the redeye and met me on the Upper West Side where I was staying early Saturday morning. A quick search for the best bagels in the area led us to 72nd Street Bagels for authentic New York bagels and bialys— easily the best we've ever had. There's definitely something slightly different about them that makes them special. Apparently it's all in the water.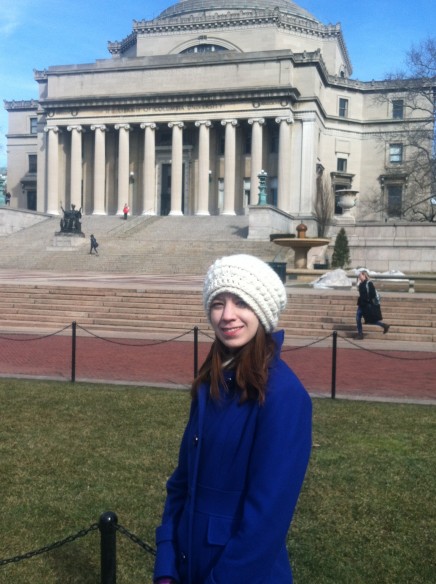 We met up with Lucy, who showed us some of Columbia University's campus followed by a visit to the MOMA where we saw The Starry Night and The Scream. Following our visit to the art museum, we went to the famous Katz's Delicatessen for amazing Reuben sandwiches. Walking into Katz's is an experience. Basically there are a couple of bouncers who "greet" you, hand you a ticket, and bark at you not to lose it or else you won't be able to leave. It seems as though they have had problems with people leaving without paying, which has led to this somewhat awkward atmosphere when walking in. Once you get past that though, you get the New York deli experience. The thickly cut corned beef was melt in your mouth good, and despite only wanting to eat half of the sandwich, I just had to nibble on the other side.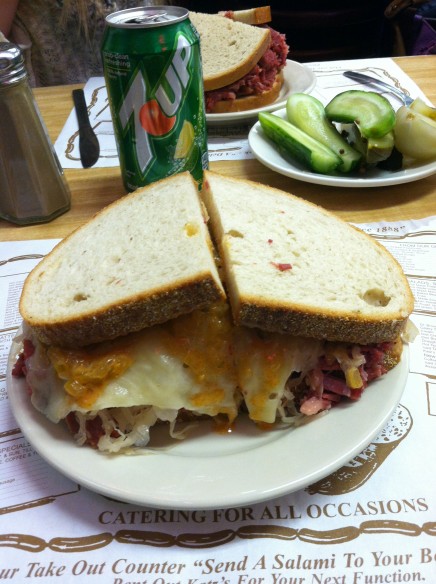 Following lunch we explored Wall Street (where we found La Maison du Chocolat where we had to stop for a small box as a reminder of our trip to Paris), the World Trade Center area, Battery Park, and we saw the Statue of Liberty and Ellis Island from a distance.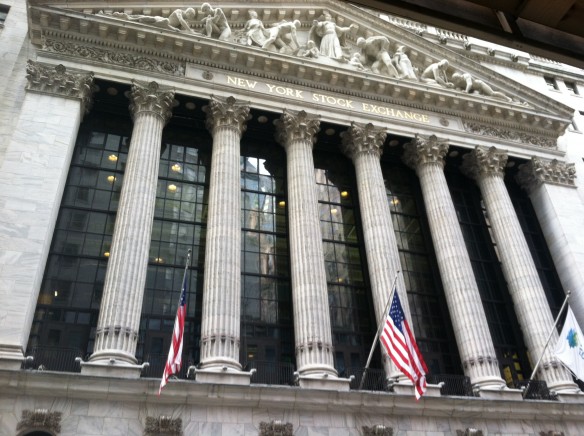 Once I booked this trip to New York, I planned out my visits to the local bakeries. We were going to have to do a lot of walking to burn off all of those extra calories. The first stop was Momofuku Milk Bar, home of crack pie, awesome birthday cakes, and compost cookies. We got a slice of crack pie to taste the original and sample the proper texture (way better than ours), a blueberry and cream cookie (something different and unique I'll eventually get to make from the cookbook), and a carton of fruity cereal milk, which is just so simple, yet absolutely ridiculously sweet and delicious— the perfect way to wash down some crack pie. I think everything made by Momofuku is a little slice of heaven!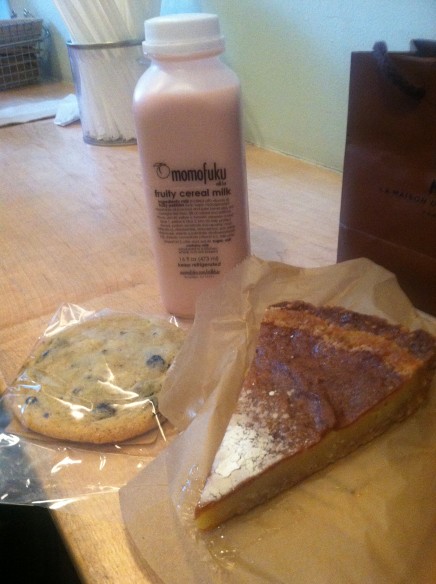 For dinner that night we ate at a tasty Ethiopian place near Columbia. One of the things that most excites me about possibly living in New York is all the delicious, inexpensive ethnic foods. After a long day of exploring and very little sleep on the previous nights we were pretty pooped, so we hit the hay to prepare for a fun-filled Sunday.
Sunday morning we stopped for coffee and brunch at Kitchenette's Uptown location at Lucy's recommendation where I got a delicious turkey, tomato, and egg white biscuit sandwich (their biscuits were voted best in New York) and Dustin got a red velvet waffle with cocoa butter.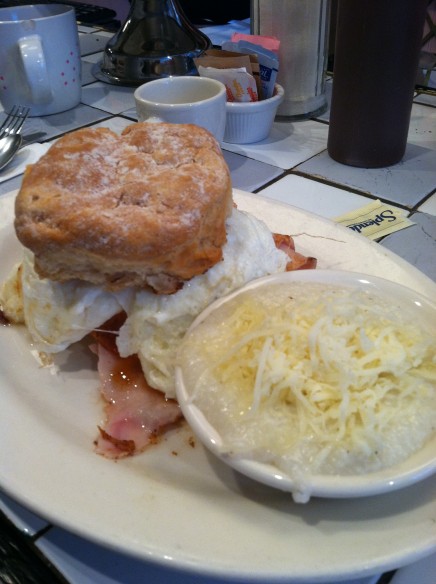 I was trying to be a little healthier since I knew there were dessert plans for the day. Dustin just wanted something sweet for breakfast, which is incredibly out of the ordinary, but I was more than pleased with his decision because it meant that I could have a few bites of his waffle :).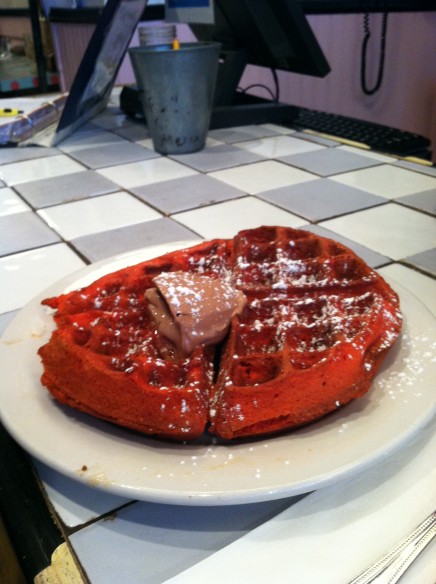 After brunch, we explored Morningside Heights some more, stopping at Nussbaum and Wu for a black and white cookie (one of my New York trip requirements) and Grant's tomb to escape the bitter 20º weather and winds we experienced while walking around. We got an insanely large, traditional black and white cookie (they also had other colors but I wanted the classic), and as expected it was way better tasting than anything outside of New York. It's hard to decide which is half is better, the softer chocolate side or the harder vanilla fondant side. The soft cakey cookie underneath might be the highlight, though.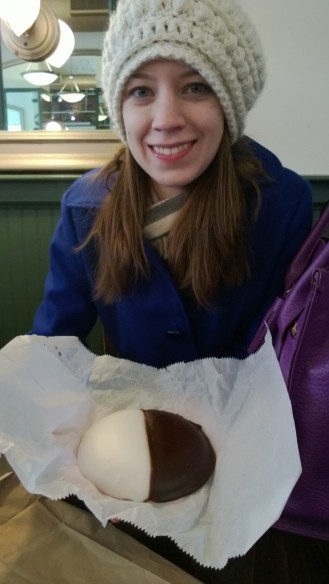 We were pretty stuffed, so we didn't eat for awhile. Instead, we went to Booth Theater, right off of Times Square, to see 'Who's Afraid of Virginia Woolf?' put on by Steppenwolf. The performance was amazing and the perfect Broadway show for us to see in New York given Dustin's history with the play. My only wish is that we had more time to see shows while we were out there. Definite perk of living in the city.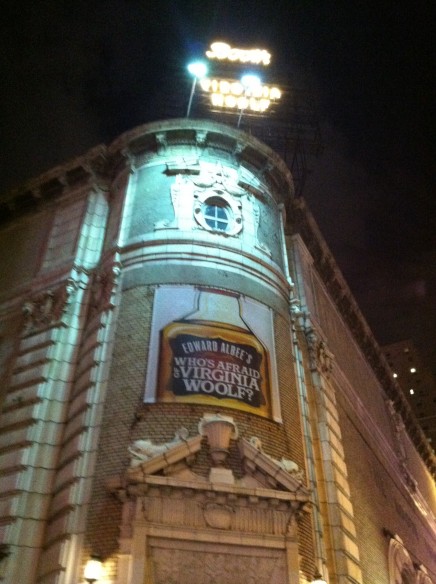 By the time the show was over, we were pretty hungry, so we ducked into the closest teeny tiny pizza shop for a few slices. It was just what we were expecting— deliciously greasy, thin crust pizza. Despite Dustin being firmly a member of the Chicago deep-dish camp, he raved about the pizza. It really hit the spot to fill our post-theater meal.
Monday we were out and about exploring random areas of the city again. First we stopped by Levain Bakery for probably the most famous cookies anywhere. We got the ginormous chocolate chip walnut cookie and ate it for breakfast. Don't judge us. There are only so many meals we can eat in day :). It seriously might have been the best cookie I've ever eaten— crispy on the outside but soft and gooey on the inside. It's basically two kinds of cookie in one. We unfortunately didn't get a warm one fresh from the oven, but nonetheless, it was absolutely amazing, and definitely a must-stop place in Manhattan. It took a lot of self control to not go back and try the double chocolate version later in the day since the bakery was so close to our hotel. This picture does not at all do this cookie justice!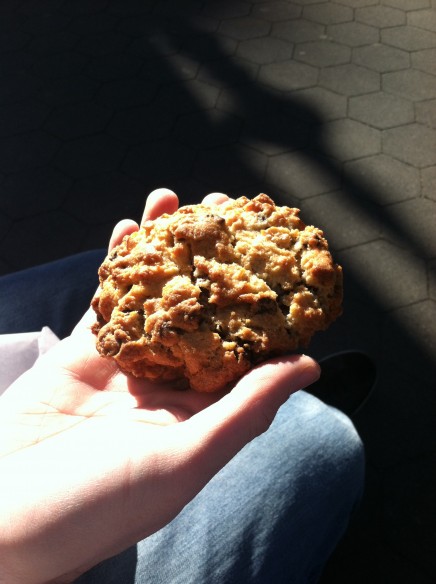 Following breakfast we visited the American Museum of Natural History where we got to pretend we were in Night At The Museum and visit with the dinosaurs. Dustin thought I was lame for taking a picture, but oh well.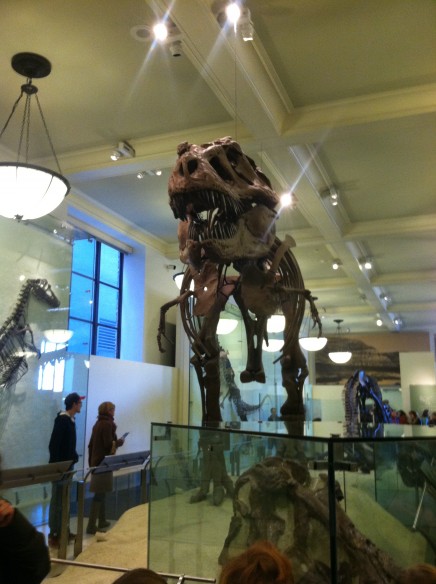 Then we traveled to Grand Central Station, which is currently celebrating its 100th anniversary, and we walked down to the Empire State Building, although we chose not to go to the top.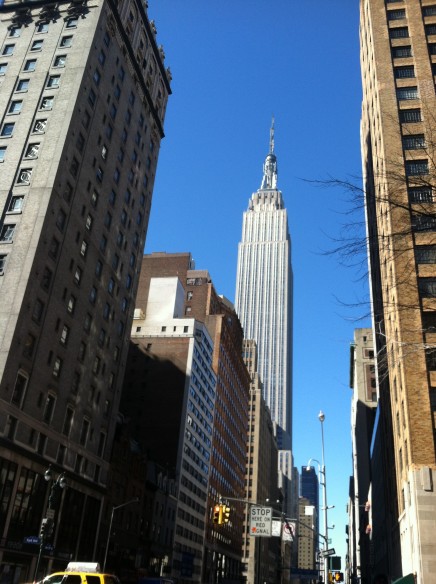 After that we headed to Greenwich Village and the Washington Square Park area. We tried eating at Peanut Butter and Co. for a creative take on peanut butter sandwiches, but the wait was 40 minutes (once you placed your order). We both felt that was ridiculous for a peanut butter sandwich, so we explored the area and ended up stopping at a really cool meat and cheese shop where we got some sandwiches to go.We picked up some cappuccinos from a neighboring coffee house, and then we ate on one of the chess board tables at Washington Square Park. It wasn't exactly what we planned, but I got a really unique pumpkin, apple butter, goat cheese sandwich for a twist on the classic grilled cheese, so I think it turned out well in the end.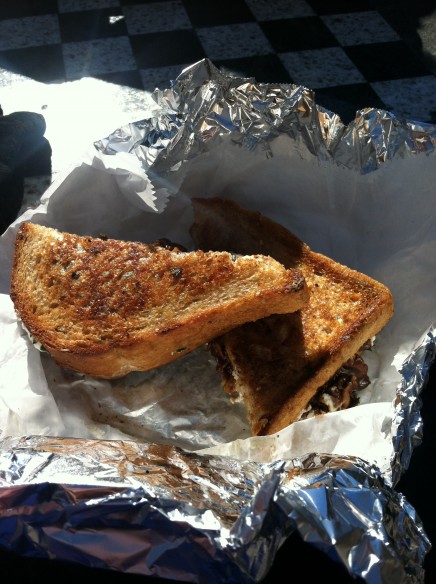 Following lunch we hit Canal Street and Chinatown where we explored a completely different side of the city. Canal Street is a bit intimidating, and we didn't buy anything or even try to test out our negotiation skills, but it was still a fun thing to do.
We grabbed some more bagels for the plane along with some dried Italian sausage from the Meat Packing District and headed back to Seattle. Now we are kicking ourselves for not bringing back a few extra bagels for breakfast the next morning. Seriously, we were not thinking when we walked into the bagel shop and left with only two bagels for dinner. I'm so mad at myself!
Other than not grabbing bagels, the only regret of our trip is that it wasn't longer. There's still so much to see and eat in the city. We barely were only able to explore a few tiny corners of Manhattan, so we are both very much looking forward to returning to the city, whenever that may be! However, we were super happy to return home to our little girl, who was quite sleepy after many days of hard playing. We miss her like crazy when we are gone!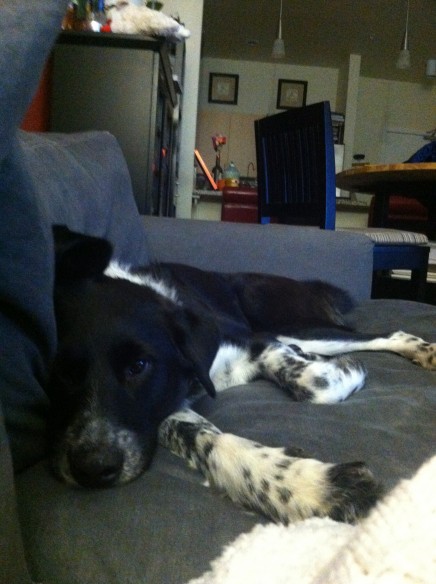 Sorry for the low quality iPhone pics!