Fruity Pebble Krispy Treats
I've always wanted to make Rice Krispy-eqsue treats from another kind (i.e. tastier) of cereal to make them a little more fun. After making the fruity cereal milk, I had a bunch of leftover Fruity Pebbles, and since Dustin and I don't really eat cereal for breakfast, I figured this would be a great way to use them up, as yet another treat for Dustin's coworkers.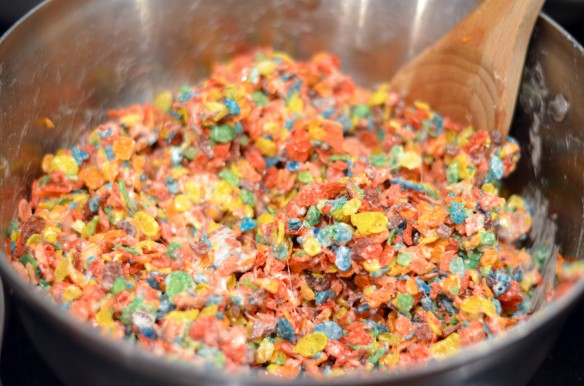 Dustin said it was the best version of a rice krispy treat he'd ever had thanks to changing up the cereal.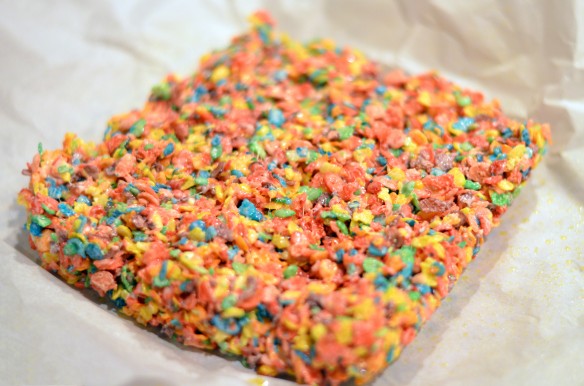 Fruity Pebble Krispy Treats
yields 16 treats
3 1/2 cups mini marshmallows
2 tablespoons butter, melted (I used browned butter since I had some on hand...it makes everything better)
1 teaspoon vanilla extract
1/4 teaspoon salt
4 1/2 cups Fruity Pebbles (or other cereal of your choice)
Line an 8"x8" baking dish with parchment paper and spray with non-stick cooking spray.
In a large pan, melt the marshmallows over medium heat.
Add in the butter and vanilla extract and mix until smooth. Reduce heat to low.
Slowly stir in the Fruity Pebbles (or other cereal) until all of the cereal is covered in gooey marshmallow.
Use a large wooden spoon to transfer cereal/marshmallow mixture to baking dish. Use your fingers to press into corners and sides (make sure the mixture has cooled enough not to burn you).
Allow treats to completely cool before removing them from the pan and cutting them into squares.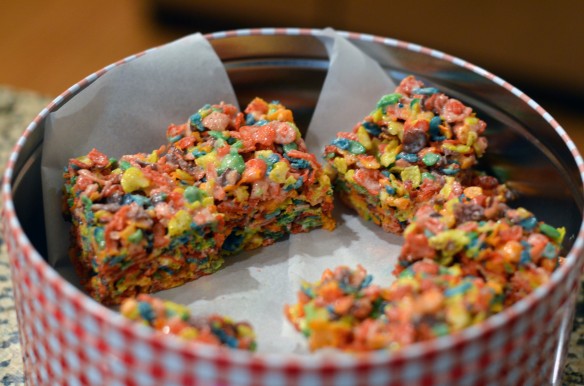 Yums!