Funfetti Chocolate Chip Cookies
Wednesday afternoon I went to Dustin's weekly team lunch to meet his boss and his coworkers that I regularly bake for. I'm very well known around the office for all of the baked goods he bring in. Naturally I had to bring some sort of dessert to this get together. I honestly feel like I can't go anywhere without bringing dessert these days. I now have a reputation of baking homemade desserts for everything, so I feel like I'm letting people down if I don't bring something.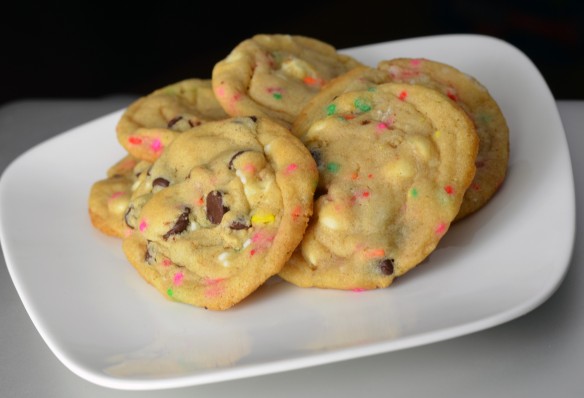 I wanted something freshly baked for the lunch, but there wasn't that much time to make something in the morning. Cookies seemed like the perfect solution. I made the dough on Tuesday and baked them up Wednesday morning before I headed out to lunch. These cookies also marked the christening of my beautiful cobalt blue KitchenAid Professional 600 stand mixer that my mom and dad graciously sent me and Dustin as a first anniversary present (I can't believe that's almost here!) when our old one met its demise back in February.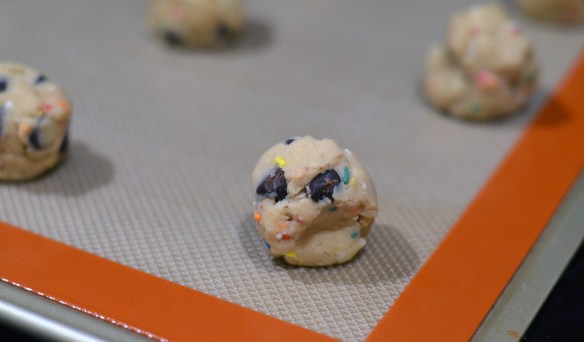 I saw some pictures on Pinterest awhile back for cake batter chocolate chip cookies, which served as the inspiration for this treat. Basically I took a chocolate chip cookie recipe and replaced half of the flour with Funfetti cake mix, switched half of the regular chocolate chips for white chocolate chips, and added the rest of the contents of my bottle of sprinkles to the mix. These cookies are super soft in the middle and definitely the kind of dessert you keep sticking your hand back in the cookie jar for! And this recipe makes plenty for that!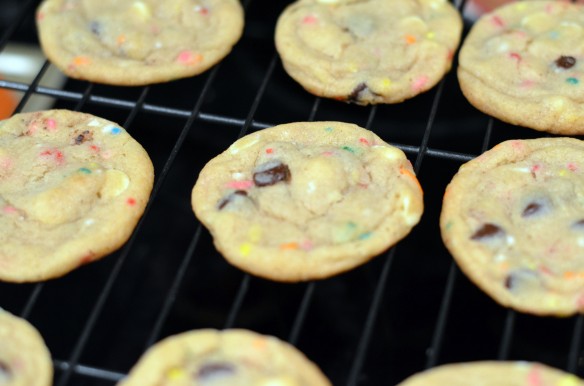 Funfetti Chocolate Chip Cookies
yields ~3 1/2 dozen
1 1/2 cups all-purpose flour
1 1/2 cups Funfetti cake mix
1 1/2 teaspoons baking soda
3/4 teaspoon salt
1 cup butter, room temperature
3/4 cup granulated sugar
3/4 cup light brown sugar
1 egg
2 teaspoons vanilla extract
2/3 cup semi-sweet chocolate chips
2/3 cup white chocolate chips
1/2 cup sprinkles
Sift together flour, cake mix, baking soda, and salt in a medium sized bowl. Set aside.
Cream together butter and sugar until light and fluffy in the bowl of a stand mixer.
Add in the egg and vanilla extract until smooth.
Slowly add the dry mixture to the wet mixture and mix until just barely combined.
Fold in the chocolate chips and sprinkles.
Allow to the dough to chill in the refrigerator for 24 hours, so the cookies don't spread too much.
When ready to bake, line baking sheets with silicone baking mats or parchment paper and preheat oven to 350º.
Use a cookie scoop to break off tablespoons sized balls of dough on the cookie sheet.
Bake for 10 minutes.
Allow to cool on the pan for at least 5 minutes before transferring to a cooling rack to completely cool.