Chocolate Chunk Brioche Pretzels
RIP KitchenAid Stand Mixer. We had a good run. It was great while it lasted.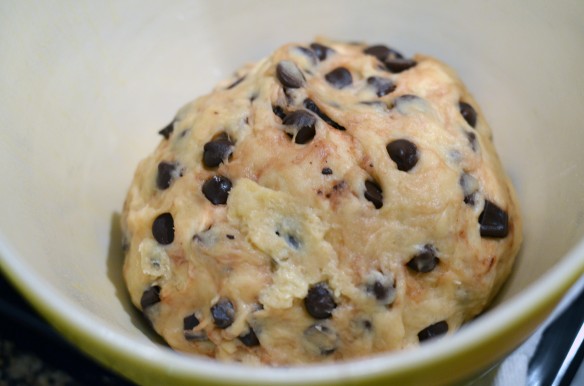 The mixer, passed down to us from D's parents, died a silent death as I made these rich, buttery breakfast pretzels. I was celebrating more good graduate school news and making Dustin and his coworkers a quick treat before I left on my next trip. I felt a little guilty leaving him again so quickly and not coming back for awhile, so I wanted to make something special for him as well as something I could grab-and-go for breakfast on my 6 AM flight.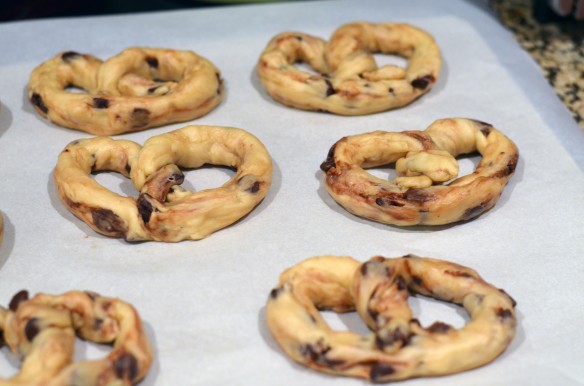 I've wanted to make chocolate chip bagels (or maybe Oreo bagels), and while those are still on the table for the future, I decided to switch things up and make these sweet, soft pretzels I saw in the Smitten Kitchen Cookbook— the first thing I've actually made from the cookbook and definitely what caught my eye most when I flipped through. Brioche has been on my list of things to make for awhile, and I really liked the idea of incorporating dark chocolate chunks and smoked chocolate chips (the combination is fabulous) into a buttery brioche. I thought about making this into a loaf of sorts, but in the end I stuck with pretzels because that seemed a little more exciting.
I started out making the dough in my stand mixer, and while it was kneading and stretching the dough, it just stopped working. I was pretty upset— not how I expected my day to go after a graduate school acceptance email. So I had to use my hands to work the butter in and knead the dough the rest of the way. It was a real pain in the rear. I guess recipes using the stand mixer will have to go on hiatus for the immediate future until we can repair or replace the Kitchen Aid.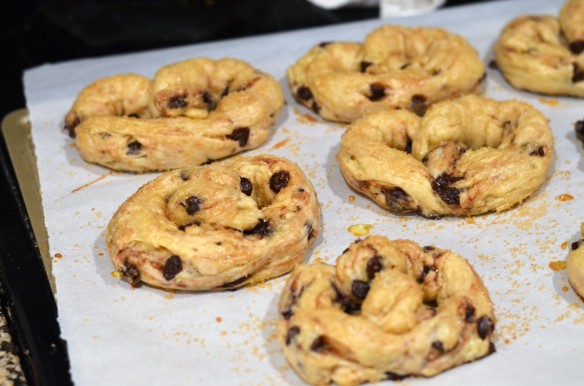 But eventually I got the dough to right state (adding more flour than the original recipe called for) and got all of the chocolate incorporated. Then, I let the dough rise, shaped the ropes into pretzels, and baked them to perfection. They are absolutely melt-in-your-mouth delicious. I hope Dustin and his coworkers enjoy!
Now I'm off to St. Louis— not quite as glamorous as New York, but hopefully an equally rewarding experience. Then I'm hopping on over to Evansville to visit my parents, Ava, and Ty, whom I haven't seen since last June.
Chocolate Chunk Brioche Pretzels
yields 8 pretzels
Pretzels
1/3 cup milk
1/2 packet instant yeast
2 1/2 cups all-purpose flour
2 tablespoons granulated sugar
1/2 teaspoon salt
2 large eggs, room temperature
8 tablespoons unsalted butter, room temperature and cut into pieces
1 cup dark chocolate, roughly chopped
Egg Wash + Topping
1 egg, lightly beaten
1 tablespoon water
coarse sugar
Dissolve the yeast into the milk.
In the bowl of a stand mixer, combine the flour, sugar, and salt.
Add in the eggs, one by one, slowly followed by the butter.
Let the mixer knead the dough for approximately 10 minutes.
Stir in the chocolate chunks.
Transfer to an oiled bowl and allow to rise in a warm place for approximately 2 hours.
Divide the dough into 8 equal pieces (3 1/4 ounces each) and roll each into thin strips.
Fold each strip into a pretzel shape (twist the two ends together then pinch into the other side of the pretzel).
Allow the pretzels to rise on a parchment paper lined baking sheet for 15 minutes. While they are rising, preheat the oven to 350°.
Make an egg wash by combining the beaten egg with the water and brush onto the pretzels. Liberally sprinkle with coarse sugar.
Bake for 12 minutes until barely soft to the touch and slightly golden.
slightly adapted from the Smitten Kitchen Cookbook
Wish me luck in St. Louis, and beg Dustin to cook and post while I'm gone!