Goat Cheese Cakes with Caramelized Bacon, Plum, and Balsamic Drizzle
As you may have heard from Erin, Game of Thrones finally came back. We've been waiting for our Season 3 premiere since last year and were getting incredibly excited for the food, drinks, and TV. Even though our neighbors were out of town and we had to push the viewing party back a week, we couldn't help but contain our excitement.
We had drinks covered. A magnum bottle of wine we had won at a silent auction had been designated "Thrones-worthy," and I was sure Greg had more bottles in his "cellar" if need be, so all I had to focus on was appetizer. But that's what left me uncomfortable.
I couldn't at all decide what to cook. I originally had wanted to prepare something that would fit well within the Thrones universe. That left me with fairly common fare, turkey legs, and such. A Medieval Times impression of Game of Thrones. But that's not what I chose to capture. Instead, I used the opportunity to explore a higher level of cuisine like that of Game of Thrones compared to Big Bang (not that we don't also love Big Bang -- the cheese fries of TV).
And so came, out of the hodgepodge of FoodGawker mix-n-match, our appetizer. Baked Goat cheese Cakes over a spinach and plum salad with a sweet balsamic drizzle.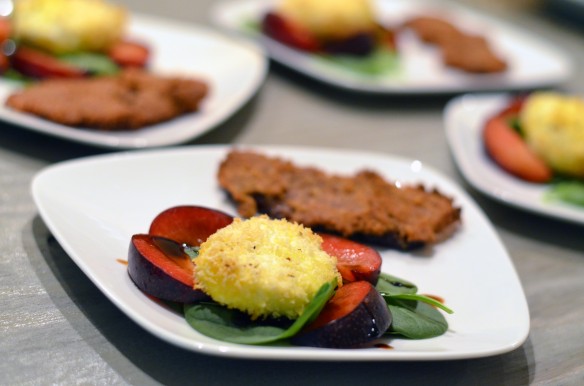 I forgot to mention that I made bacon.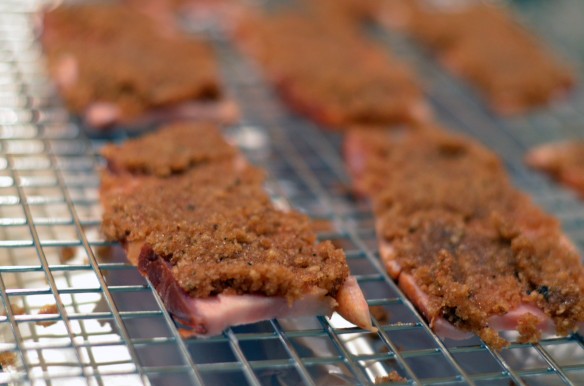 Kick ass bacon that gives John Howie's Tempura Fried Bacon a run for its money. Crispy, carmalelized bacon (with hand cracked pecans) is a wonderful combination of salty, smoked bacon with sweet brown sugar, maple syrup, nuts, and an ever so slight kick of cayenne.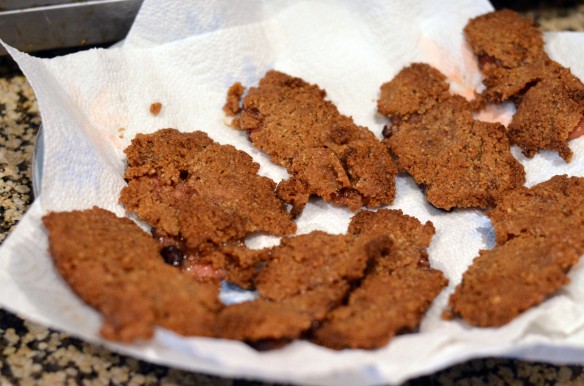 Eat all three of these things together -- the salad, the goat cheese, the bacon -- and you have an impressive melding of flavors I could at least win Worst Cooks with.
Setting the bar high on our Game of Thrones night, I couldn't quite tell whether the show or the food delivered better!