Halibut with Whole Wheat Pasta + Creamy Tomatillo Sauce
Fresh, first-of-the-season halibut has been hitting Seattle. Last weekend, our Whole Foods had a generous one day sale on halibut, so we bought several meals worth of fish and plan on making it a halibut week in this house and cook it several different ways. Might as well eat as much fresh fish as we can while we live here, right?
It had also been quite awhile since we brought out the pasta machine, so we decided to simply grill some halibut and place it over a bed of fresh (partially) whole wheat pasta. Now we just needed to come up with a sauce. Dustin brainstormed up a tomatillo salsa with a splash of cream to pour over the pasta. So that's exactly what we did.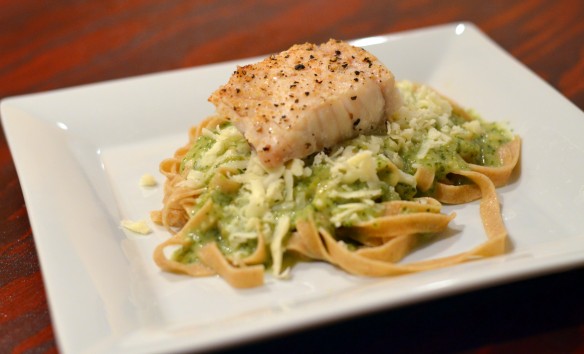 Naturally, we expected this dish to be tasty. But what we didn't realize is just how tasty the combination of tomatillos and halibut are together. It also helped that Dustin cooked the fish to soft, buttery, perfection. Definitely one of our favorite dinners in quite some time.
More halibut dinners coming soon!