Indian Spiced Halibut + Mango Chutney
This dish was supposed to be over a bed of wild rice, but I got so focused on making the chutney and Dustin was so focused on the fish that we both totally forgot to get the rice on the stove at an appropriate time. By the time we did remember, it would have completely thrown our timing for the rest of the dinner off, so we had a simple meal of protein and sauce. Dustin spiced the halibut with garam masala— the flavors of cumin, cardamom, peppercorn, cinnamon, and cloves— plus a pinch salt. Then we baked the halibut in the oven for 30 minutes at 400º with a little bit of butter.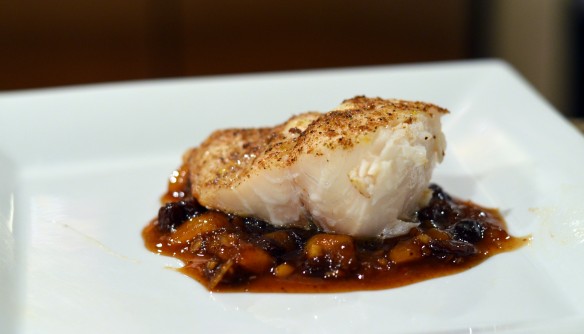 While the fish was baking, we worked on the chutney. It smells strongly of vinegar when its on the stove, but tastes much mellower. You can continually adjust the flavor of the chutney by adding more spices or sugar until it tickles your taste buds.
Mango Chutney
2 mangoes, peeled and seeded
1 cup apple cider vinegar
3/4 cups brown sugar
1/4 cup raisins
1 small piece of ginger, chopped
1 clove garlic, chopped
pinch of cinnamon
pinch of cloves
pinch of salt
Roughly chop the mangoes.
Add mangoes to a large heavy bottomed sauce pan with the apple cider vinegar. Bring to a simmer and cook until the mangoes soften.
Add in the brown sugar, raisins, ginger, garlic, and spices, and continue simmering.
Cook down the mixture until the texture is that of jam.
Remove from heat and allow to cool before serving.
This chutney would taste great with some samosas! I think we will be planning another Indian night soon!