Smoky Bison Burgers
We had beautiful weather for Easter, and this past week we once again got a streak of warmth and sunshine. Naturally, we turned up the heat on the grill, and started planning some delicious and easy burgers to enjoy alongside the first pitcher of the season margaritas.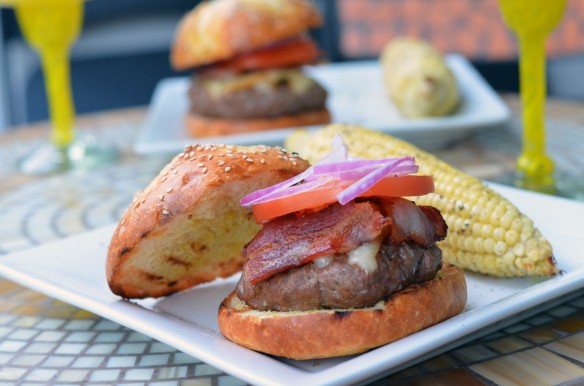 Flipping through a cookbook, we saw a recipe for a smoky buffalo burger, which we know is leaner and therefore healthier than regular ground beef. We liked the idea of a somewhat healthier burger after a few weeks worth of indulgences, so this recipe started out as a point of inspiration. Of course, we got a little carried away and trashed up the healthy burger with bacon and smoked cheese from Beecher's, but that's neither here nor there.
We wanted to amp up the smokiness of these burgers, so we seasoned the buffalo meat liberally with smoked paprika and added a little chipotle powder for some kick. At the grocery store we were looking to pick up smoked Gouda, but instead stumbled upon smoked Flagship from Beecher's, so we snapped that up instead. It was Dustin's idea to add some bacon to the burgers, since buffalo is soooo lean, but we did exhibit some portion control— only one slice per burger.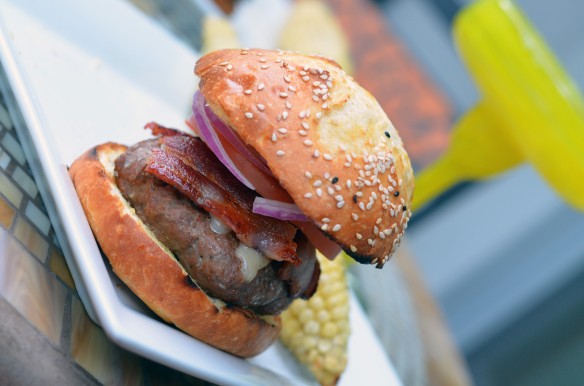 We grilled up first of the season white corn with a little salt, pepper, and garlic powder finished off with the slightest bit of butter as a side dish while we enjoyed being able to take pictures outside in the natural light and not be freezing or rained upon. It was a good evening!
Bonnie celebrated too. She got a bit too tipsy and passed out.