Cheesy Kale Chips
I was skeptical to try making my own kale chips. I've heard they are ridiculously good that parents have even gotten their leafy-green eating toddlers munching on them nonstop. With leftover kale from the cinnamon and red wine braised shortribs, I decided "why the heck not try them" since I had no other planned use for the kale.
Consider me impressed. These are super easy to make, healthy, and were way better than I expected them to be.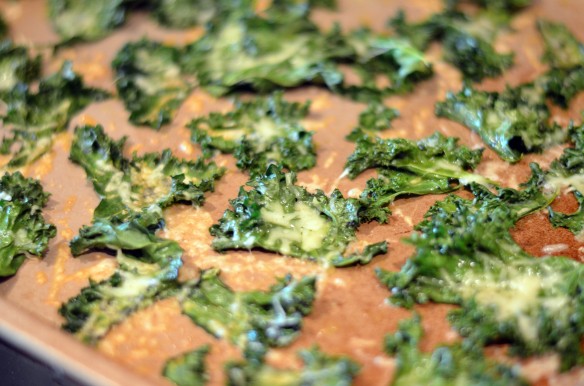 First preheat the oven to 300º. Mist a baking sheet with olive oil. Tear the kale from the stem into chip sized pieces and place in a single layer on the baking sheet. Mist the tops of the kale with some more olive oil and freshly grind some sea salt on top. Bake for 10 minutes until edges start to get crispy. Remove from the oven and lightly sprinkle with cheese (I used a blend of parmesan, romano, and asiago). Bake for another 3 minutes until the cheese is melted. That's it.
Apparently kale chips burn pretty easily, so you have to watch them closely. But I had no problems with burning. The only problem I had was stopping eating them, which I really didn't have to worry about since they were healthy! Definitely a remake if I ever have leftover kale lying around the fridge again!