Slow Cooker Cinnamon & Red Wine Braised Short Ribs
There's a restaurant called Vij's in Vancouver that is super famous for creative, high-class Indian food; it has been called the best Indian food in North America. We wanted to go on our trip, but they don't take reservations. It's apparently so good that people will drive all the way from Seattle just to eat there, then turn around and go home. That's not quite us, plus we didn't want to spend all of our Saturday evening waiting in line for a table, so we skipped out. The owners of Vij's have just recently opened a restaurant called Shanik here in Seattle. We tried it and had a good experience. However, some magazine articles around the town claim that they are a little shaky as they are trying to find their legs and that Vij's stands as much better food (at least for now). So the name Vij's has been stuck in my head ever since.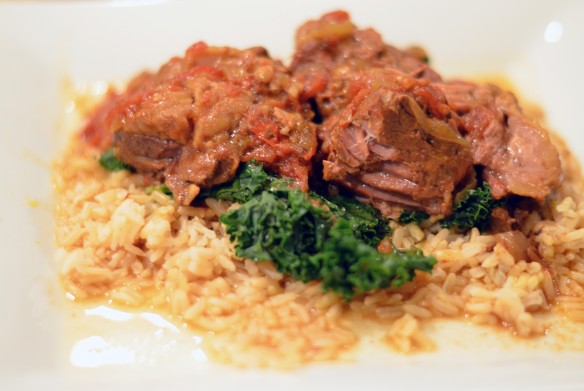 When flipping through The Flavor Bible, I read a little blurb about a popular dish at Vij's— cinnamon braised short ribs. Instantly this was a dish I knew I wanted to recreate. Braised dishes are great to make in the crock pot, so that's the route I went with these short ribs. I let them cook during the day, then they were ready for us to immediately devour after our 7pm classes at the gym.
Slow Cooker Cinnamon & Red Wine Braised Short Ribs
serves 3
6 short ribs of beef, bone-in with excess fat trimmed off
3 tablespoons canola oil
2 tablespoon ghee (I just used butter because I was lazy)
1 large white onion, chopped
2 cloves garlic
1 28-ounce can whole peeled tomatoes, drained
4 cups chicken stock
1/2 cup red wine (Trader Joe's Two Buck Chuck Merlot is perfect for this)
2 cinnamon sticks
3 tablespoons cumin powder
1 teaspoon fenugreek
1 teaspoon tumeric
1/2 teaspoon cayenne pepper
1 tablespoon chili powder
In a deep heavy bottomed pan, heat the oil and the ghee (butter). Sear the short ribs on each side for about 4-5 minutes. Remove from the pan.
Add the onion and garlic and sautee until browned.
Add in the tomatoes and mash them up.
Add in the chicken stock, red wine, cinnamon sticks, and spices. Bring to a boil then let simmer for 30 minutes until sauce has reduced.
Transfer the sauce and the short ribs to the crockpot. Cook on high for 2 hours, then reduce to low and cook for 7 hours.
Remove the dish from the heat and allow to cool. The fat will rise to the top of the sauce, and then you can scoop it out.
adapted from food.com courtesy of Vikram Vij
Serve on a bed of brown jasmine rice with cooked kale. Kale is easily cooked in the microwave very quickly.
Probably no where near as good as the restaurants, but we were very happy with our dinner!