Blueberries and Cream Cookies
A week in Texas + a week of no grocery shopping = no recipes to blog about. It also equals several extra pounds of body fat (mostly thanks to the copious amounts of Tex-Mex we consumed while in Austin and San Antonio) we are trying to erase with lots of running and spin classes at the gym. However, as per usual, I was expected to make a dessert for Game of Thrones night last Sunday (whoa, what an ending— I don't know how the finale next week can top that!), and we had all of the ingredients in the cabinets for these cookies from the Momofuku Milk Bar cookbook, mostly because I planned to make them before we left and then I got sick.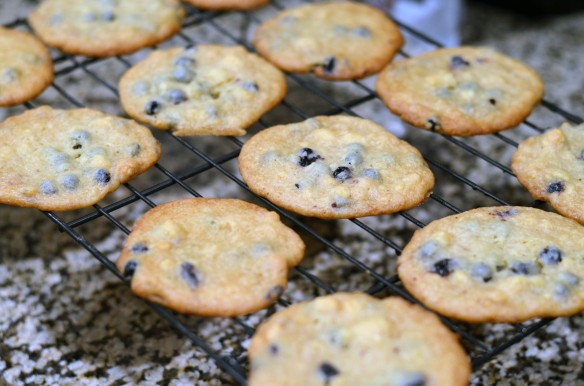 I made these cookies a lot smaller than what was recommended in the book (it says 1 recipe yields 12-17 cookies), so I ended up with 3 dozen cookies and plenty of leftover batter for more, but I was running out of time to bake them, and honestly what do really need more than 3 dozen cookies for? I do know that if I am ever able to design my dream kitchen, it will have more than one oven to make situations like this easier. I made the first batch of cookies a little larger than the second and third because the larger ones didn't seem to cook as evenly. The edges got very browned, but the middles were still undercooked and began to tear when I removed them from the baking sheet even after resting for a few minutes.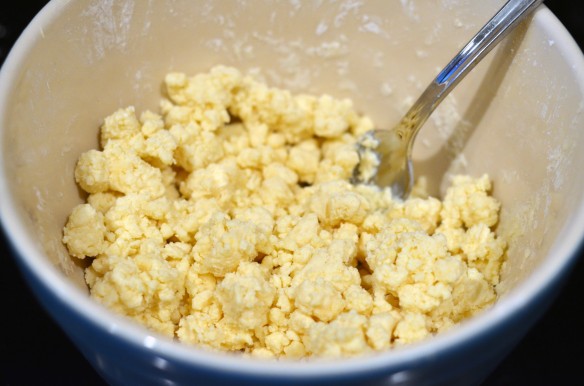 What's so unique about these cookies is that they are really thin, yet the interiors stay very soft. I feel they were slightly different than the actual version from Momofuku Milk Bar we tried back in February. Dustin claimed these were better, but I think he doesn't really remember the real deal cookie and is just being sweet to flatter me. They are supposed to be reminiscent of blueberry muffins tops. I'm not sure I agree with that or not, but the dried blueberries are really interesting to add to a cookie. And I swear the milk crumb, covered in white chocolate makes them impossible to stop eating, particularly in dough form.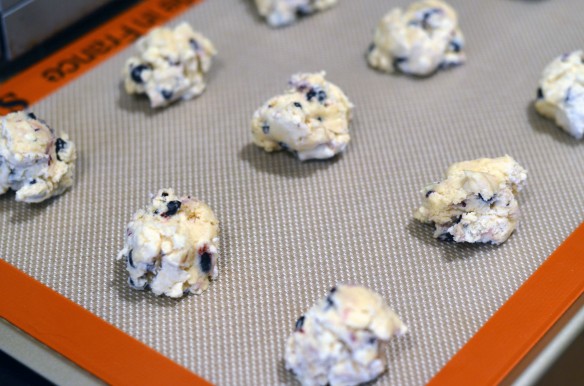 Blueberries and Cream Cookies
yields at least 3_ _dozen 2 1/2" cookies
1 cup unsalted butter, room temperature
3/4 cup granulated sugar
2/3 cup light brown sugar, packed
1/4 cup light corn syrup (or glucose if you are following the original recipe and can find it)
2 large eggs, room temperature
2 cups all-purpose flour
1/2 teaspoon baking powder
1/4 teaspoon baking soda
1 1/2 teaspoons salt
3/4 batch of milk crumb (recipe below)
1 cup dried blueberries
Combine the butter, sugars, and corn syrup in the bowl of a stand mixer fitted with the paddle attachment on medium-high for 2-3 minutes.
Add the eggs, one at time and beat for 7-8 minutes on medium speed until the mixture is has drastically lightened in color and is very light and fluffy. Be sure to scrape down the sides of the bowl.
In a medium bowl, mix together the flour, baking powder, baking soda, and salt.
With the mixer on low, slowly add the the dry mixture to the wet mixture and mix until dough just comes together. Do NOT over mix!
Add in the milk crumb and the dried blueberries and mix for about 30 seconds until you see the berries are evenly distributed throughout the dough.
Cover the bowl with plastic wrap and allow the dough to chill overnight. Dough must be allowed to chill.
Preheat the oven to 350° and line baking sheets with parchment paper or silicone baking mats.
Use a medium sized cookie scoop to scoop out large balls of dough and place on baking sheet. Make sure to leave plenty of space between the cookies because they do spread a lot. In the original recipe, the dough is chilled already shaped into cookies on the baking sheet, but I didn't have room in my fridge to accommodate this and made the modification in this recipe.
Bake for approximately 12-13 minutes. The edges will be fairly golden, but the middles should be soft and light in color. Allow to cool on the baking sheet for at least 5 minutes before transferring to a wire cooling rack. Be very careful because these cookies are fragile until completely cooled. They will keep for up to 5 days in an airtight container at room temperature, and they do freeze well.
Milk Crumb
1/2 + 1/4 cup milk powder, divided
1/4 cup all-purpose flour
2 tablespoons cornstarch
2 tablespoons sugar
1/2 teaspoon salt
1/4 cup unsalted butter, melted
4 ounces white chocolate, melted
Preheat oven to 250ºF and line a baking sheet with parchment paper or a silicone baking mat.
Combine 1/2 cup of the milk powder with the flour, cornstarch, sugar, and salt in a medium sized bowl.
Add melted butter and toss with a spatula until the mixture begins coming together and small clusters form.
Spread the clusters evenly on the baking sheet and bake for 20 minutes.
Allow the crumbs to cool before transferring back to the bowl. Break up any excessively large chunks.
Toss in the rest of the milk powder to cover the crumbs.
Pour the melted white chocolate over the crumbs, ensuring they are all coated. Toss every 5 minutes until the chocolate hardens and the clusters don't stick together. These crumbs can be made in advance and stored in an airtight container in the refrigerator or freezer for a month.
slightly adapted from Momofuku Milk Bar cookbook