Cosmic Brownies
One of my favorite lunchbox treats growing up were Little Debbie's Cosmic Brownies. I loved the fudgy texture and the colorful sprinkles on top. Even once I got to college, Cosmic Brownies would be one of my frequent snack purchases on my trips to Target. Dustin and I used to eat them together in the dorms when we first started dating, in what we now refer to as our fatty days. I haven't had a Cosmic Brownie, or any other similarly over-processed desserts since we started eating more cleanly a few years back and since I started baking all of my own desserts at home from scratch. Honestly, these are so much better than Little Debbie's, even if they aren't an exact replica. The ganache on top is so much better than their frosting (and there's more of it). Actually there's more brownie in general than the real ones since these are so thick! When I saw the recipe for these on foodgawker from Averie Cooks, I knew baking them would be the perfect way to use up my leftover chocolate covered sunflower seeds.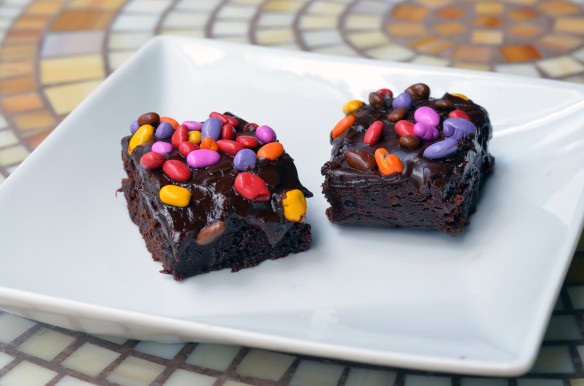 I don't think you can eat a more chocolately brownie than these right here. Each and every bite feels like a decadent overindulgence, but it's totally worth it. I tried to exhibit a little self control, but failed pretty miserably. Two and half times. I wanted to get rid of them the day I made them and have Dustin take all of the leftovers to work, but he insisted on keeping a few, and I devoured another one and a half after my initial brownie. It would have easily been two more times, but we were down to only one brownie remaining in the fridge, so we split it.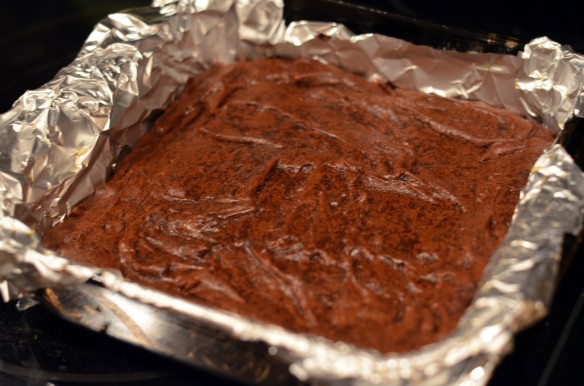 These taste fabulous at room temperture (they do get a little messy) which is when these pictures were taken, but I thought they were best cold from the fridge.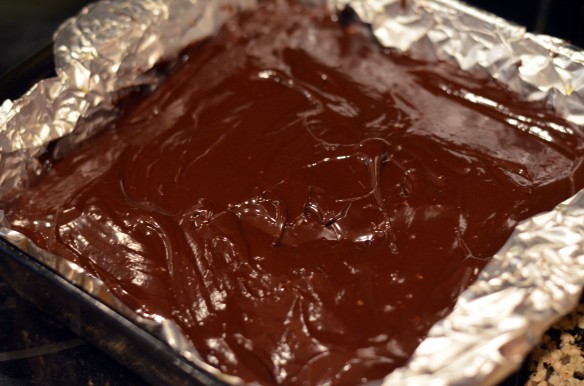 Cosmic Brownies
yields 1 9"x9" pan
Brownie Layer
3/4 cup unsalted butter, melted
2 large eggs, beaten
1 cup granulated sugar
2/3 cup light brown sugar, packed
2 tablespoons coffee
2 teaspoons vanilla extract
1 teaspoon ground coffee beans
3/4 cup unsweetened cocoa powder
3/4 cup all-purpose flour
Preheat the oven to 350°. Line a 9"x9" pan with aluminum foil, letting some of the foil hang over the edges for easy removal after baking.
Combine the melted butter, eggs, sugars, coffee, and vanilla in a large bowl, and mix until combined.
Add the ground coffee beans, and mix.
Add flour, and whisk until barely but completely smooth. Don't overmix!
Bake in the oven for 27-29 minutes until no more batter comes out on a toothpick.
Allow brownies to cool while making the ganache.
Ganache Layer
1 1/2 cups semi-sweet chocolate chips
1/2 cup cream
3/4 cup chocolate covered sunflower seeds
In a medium sized, microwave safe bowl, heat the chocolate chips for about a minute, but you don't have to melt them completely.
Heat the cream in the microwave until bubbling and pour over the chocolate chips. Let sit for a few minutes.
Stir the chocolate and cream until completely smooth.
Pour then smooth ganache over cooled brownies.
Sprinkle with chocolate covered sunflower seeds.
Cover with foil and allow to cool thoroughly in the fridge before slicing (I'd wait at least 3 hours if you can...we couldn't!).
recipe slightly adapted from Averie Cooks