Crystallized Ginger Pancakes
Soon after we moved out here, I tried some candied ginger oatcakes for brunch at one of our favorite spots in Redmond. I never realized how much I like crystallized or candied ginger. I guess it shouldn't come as a surprise given my love for gingerbread. I bought a big bag of crystallized ginger last time we were at Penzey's. I used a good chunk of it making muffins, but I decided the rest would be best used as an addition to pancakes.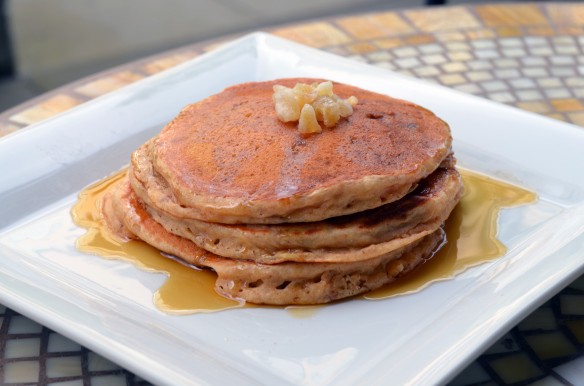 Crystallized Ginger Pancakes
serves 2-3
1/2 cup all purpose flour
1/2 cup whole wheat flour
2 teaspoons baking powder
1/4 teaspoon salt
1/2 teaspoon cinnamon
2 teaspoons ground ginger
1 tablespoon brown sugar
1 large egg, beaten
1 cup buttermilk
1 teaspoon vanilla extract
1 tablespoon vegetable oil
1 ripe banana, mashed
1/2 cup crystallized ginger, plus more for sprinkling
non-stick cooking spray
maple syrup
Heat griddle to medium-high heat and spray with cooking spray.
Combine the flours, baking powder, salt, cinnamon, and ginger in a small bowl.
Combine the brown sugar, egg, buttermilk, vanilla extract, mashed banana and vegetable oil in a medium sized bowl.
Slowly add the dry mixture to the wet mixture, mixing until barely combined.
Use a ladle to scoop the batter onto the griddle and cook until bubbles start forming on the outside, then flip and cook the other side until golden brown.
Serve with warm maple syrup.