Mini Inside Out Peanut Butter Cups
After making a more traditional Reese's dessert a few months back, I decided to make inside outside peanut butter cups where the peanut butter is on the outside and the chocolate is on the outside for a fun and different twist.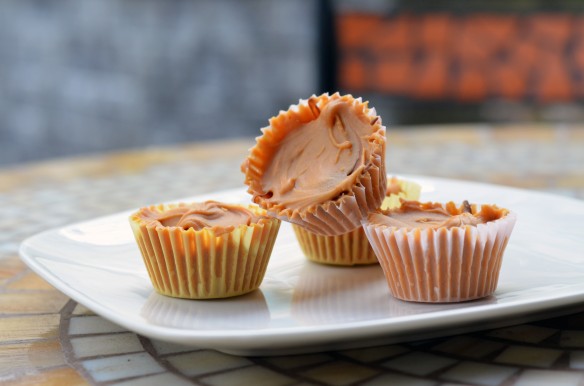 All these homemade candies require are two ingredients, a mini muffin pan and liners, and a little bit of time and are much more satisfying than any store bought candy.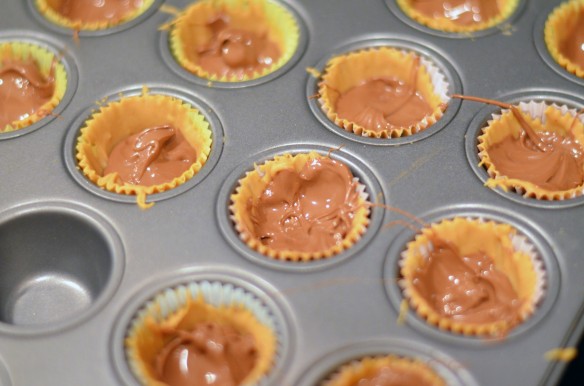 Mini Inside Out Peanut Butter Cups
yields 18 mini peanut butter cups
1 10-ounce bag Reese's Peanut Butter Chips
1 10-ounce bag milk chocolate
Line a mini muffin pan with 18 paper liners.
Melt the peanut butter chips in a microwave safe bowl in 30 second intervals at half power until smooth.
Fill 3-4 of the liners with a spoonful of the melted peanut butter chips then use the back of the spoon to work the peanut butter all around the sides of the liner. Only do 3-4 at a time because the peanut butter chips solidify fairly quickly.
Once 18 liners have been filled with peanut butter, place the pan in the freezer for 5 minutes.
While freezing, melt the milk chocolate in a microwave safe bowl.
Remove the pan from the freezer and cover the hardened peanut butter with the milk chocolate, almost filling to the top.
Place back in the freezer for 10 minutes.
Reheat the peanut butter chips if necessary and then remove the pan from the freezer again and cover the milk chocolate with a thin layer of the remaining peanut butter chips.
Put back in the freezer for another 5 minutes to harden.
Store in the refrigerator, but allow to sit out for several minutes before eating to soften. You don't want any broken teeth!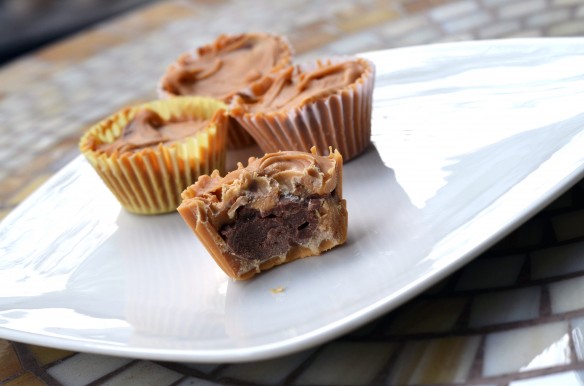 Bonnie found her own treat to chew on.