Pizza Burger Sliders
Last week at Trader Joe's we sampled some of their frozen pizza burgers in-store. Dustin and I both thought they were pretty tasty, so I grabbed a box to eat for quick weekday lunches. Dustin was surprised to find out that their pizza burgers are completely vegetarian, soy patties. He said he remembered distinctly tasting sausage in them. I think he was a little disappointed after finding out the burgers were vegetarian, and the enjoyment with which he could eat them diminished significantly. However I decided to remedy this disappointment (and I knew we could make fresh burgers that could way outshine even a good Trader Joe's frozen burger) by grilling fresh, meat-loving pizza burgers. We've been wanting to make a pizza from scratch lately, but haven't had any great ideas, so this seemed like a fun pizza twist.
Very reminiscent of our meatball sliders, we made the burgers by combining equal amounts of spicy Italian sausage with lean ground beef (you gotta make these a little healthier). Dustin spiced the burgers with granulated garlic, pizza seasoning, and some delicious fresh chopped basil and oregano from our patio garden.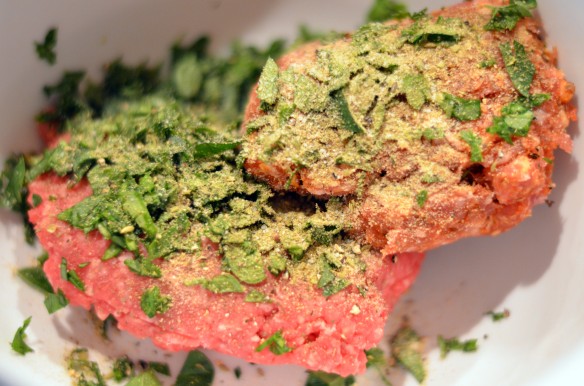 After grilling up the patties, we topped them pizza sauce, fresh mozzarella and parmesan, as well as our two favorite pizza toppings— pepperoni and olives. Earlier that day we happened to stop by the bagel shop for bagel dogs (hot dogs wrapped in bagel dough instead of a bun— yum) after a trip to the dog park where we bought these really tasty challah rolls on which to serve our patties.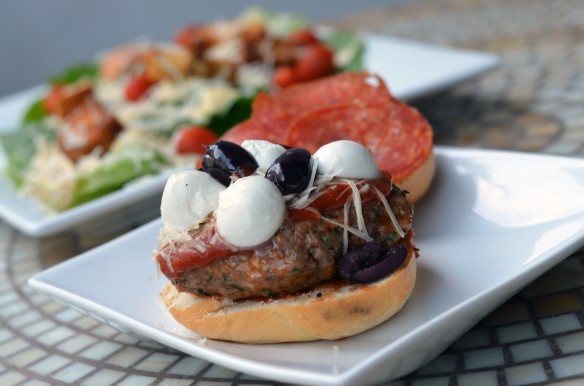 As a side for these sliders, we decided to try our hand at a fancy Caesar salad with homemade dressing. More details on that tomorrow.
I was right— totally better than Trader Joe's.