Snickerdoodles with Cinnamon Chips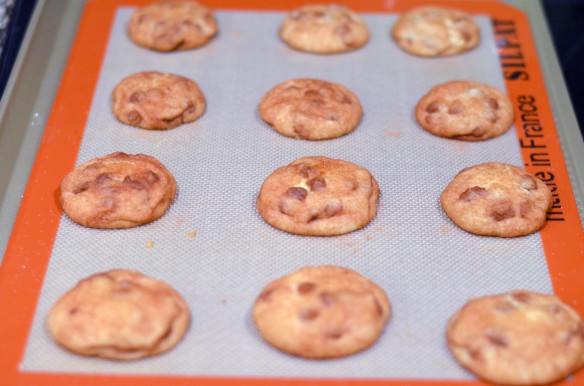 I was told these were the best snickerdoodles ever. A basic snickerdoodle is enhanced by a generous helping of cinnamon chips to take these cookies from average to extraordinary. And as you may have guessed if you have been diligently reading Wafoodie, making these are the first step towards making snickerdoodle ice cream. Stay tuned for that delicious creation!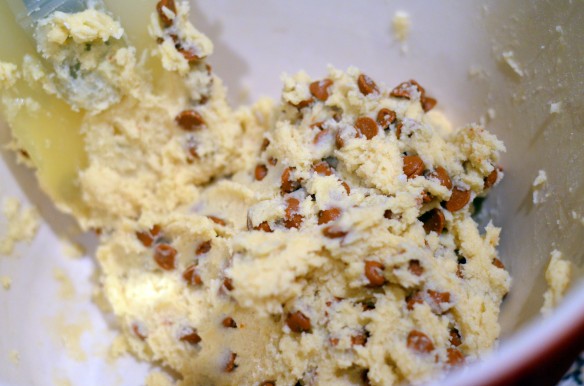 Snickerdoodles with Cinnamon Chips
yields ~ 1 1/2 dozen 1 1/2" cookies
1 1/4 cups cups all-purpose flour
1/2 teaspoon baking soda
1 teaspoon cream of tartar
1/2 teaspoon salt
1/2 cup unsalted butter, softened to room temperature
3/4 cups granulated sugar
1 large egg
1 teaspoon vanilla extract
3/4 cup cinnamon chips
2 tablespoons sugar, for rolling
2 teaspoons cinnamon, for rolling
Preheat oven to 350º. Line baking sheets with parchment paper or silicone baking mat.
In a medium sized bowl, sift together the flour, baking soda, cream of tartar and salt.
In a large bowl, beat together the butter and sugar with a hand mixer for several minutes until light and fluffy.
Add in the egg and vanilla extract and beat until smooth.
Slowly add the dry mixture to the wet mixture, mixing until just incorporated.
Fold in the cinnamon chips and distribute evenly throughout mixture.
Combine the 2 tablespoons of sugar and cinnamon in a small bowl.
Use a cookie scoop to scoop out dough and roll into small balls. Thoroughly cover in cinnamon-sugar mixture.
Place balls on cookie sheet and bake for approximately 10 minutes or until edges are golden, but middle is still soft. Allow to cool on the baking rack for several minutes and then transfer to a wire cooling rack.