Tex-Mex Eggs Benedict
Finally having made homemade English muffins, I wanted to make Eggs Benedict of sorts. But instead of hollandaise sauce I wanted to use queso and use a bunch of different Tex-Mex flavors, inspired by this recipe I've been saving in my back pocket until the English muffins made it to the table. I would have thought a visit down to Texas would have gotten rid of my need for Tex-Mex. It sort of did, but I still have been wanting to use these flavors.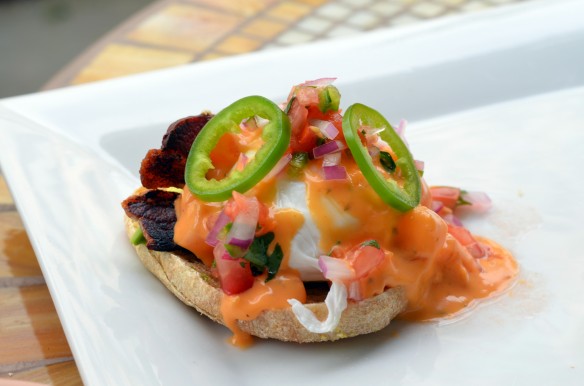 To make this lovely brunch, slice an English muffin in half, top with slices of avocado, crispy bacon, and a poached egg. Douse with queso and top with fresh pico de gallo and jalapeño slices.
Fresh queso would have been best for this dish and would have taken it up another notch, but we seem unable to make smooth, Texas-style queso at home. Apparently white American cheese is a key ingredient, and I have yet to  locate that at any of our grocery stores. We've tried a bunch of different recipes over time, and they all end up stringy. So we just settled for store-bought queso instead. Maybe once we move to California, we will have more luck with our queso-making attempts!