Brown Butter Cherry Amaretto Bars
I really wanted to make cherry amaretto hand pies similar to these for July 4th, but that just wasn't happening given the sheer number of people that needed to be baked for. Instead, I swapped the hand pies out for bars, adapting the recipe from Smitten Kitchen. I was sold after reading brown butter, but I knew I had to incorporate amaretto into these and add a few extra spices as well. Plus, I wanted to bake a bigger batch than just 8"x8", so I tweaked a few things, and they came out as a great success.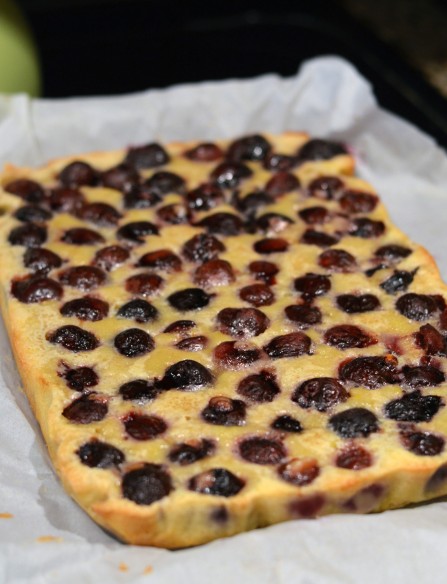 Brown Butter Cherry Amaretto Bars
yields 1 9"x13" pan
Crust
3/4 cup unsalted butter
2 cups flour
1/4 teaspoon salt
1 teaspoon cinnamon
1/4 teaspoon nutmeg
1/2 cup sugar
2 Tbsp light brown sugar
1/2 tsp vanilla extract
Preheat oven to 375º. Line a 9"x13" baking dish with parchment paper and set aside.
Brown the butter in a small saucepan by melting the butter and cooking for 7-8 minutes until darker in color and nutty in aroma. You can actually brown the butter for the filling at the same time and then reserving half.
In a medium sized bowl, mix together the flour, salt, cinnamon, nutmeg, and sugars.
Slowly add in the brown butter and vanilla extract and mix together.
Press the crust into the prepared pan and bake for 16-18 minutes.
Allow the crust to cool for at least half an hour before adding the filling.
Filling
4 cups fresh Bing cherries, pitted
3/4 cup unsalted butter
2 large eggs
2/3 cup sugar
1 teaspoon vanilla extract
1/2 teaspoon almond extract
1/4 cup Amaretto + more for soaking cherries
1/2 cup flour
1/4 tsp salt
Put the cherries in a medium sized bowl and pour as much or as little Amaretto over the cherries as desired, allowing the cherries to absorb the alcohol.
Brown the butter like in the Crust section.
In a medium-sized bowl, whisk together the butter, eggs, sugar, extracts, and 1/4 cup Amaretto.
Add in the flour and salt.
Pour over the cooled crust.
Create an even layer of Amaretto-soaked cherries on top of the filling, pressing them in lightly.
Bake for 40 minutes until outer edges are crisp and the center is bubbling.
Allow to cool to room temperature and then set in the refrigerator for several hours to harden before slicing.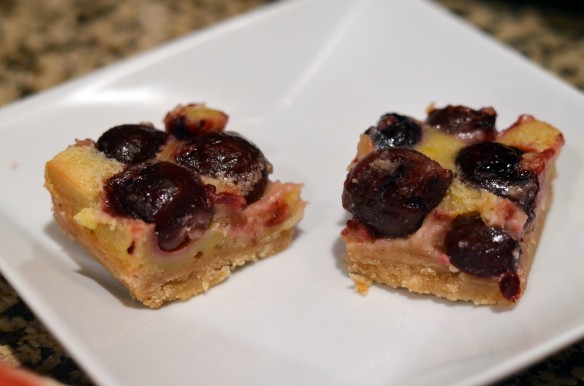 Bonnie and the boy loving the patio: