Banana Nutella Hand Pies
I just realized that in a way this dessert is very similar to the banana cream pie that I made for the first episode of True Blood this season (these pies were consumed during the second episode). Chocolate and bananas are the star of the show in both desserts.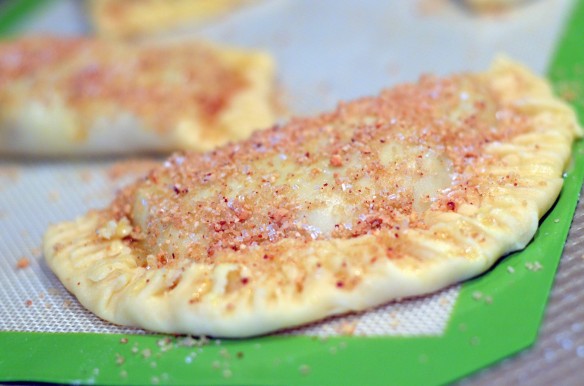 But in a way, these desserts also feel very different. The banana cream pie had a modern feel and was all about the texture of the cream filling. These Banana Nutella Hand Pies (recipe from More from Macrina Cookbook) have a more rustic feel to them, and are rich beyond belief. Despite how much I wanted to, I couldn't finish all of mine for fear of having a horrible upset stomach that night (and knowing how much butter I was consuming with each bite!). I didn't have that problem with the banana cream pie. It went down the hatch a bit too easily.
The original recipe included brandy in the filling, but we didn't have that on our shelf, so I substituted Cointreau, which as expected was delicious. And of course, pies should be served a la mode, so we topped with maple ice cream, which I thought complemented the pies ridiculously well considering I never actually planned to use the two together.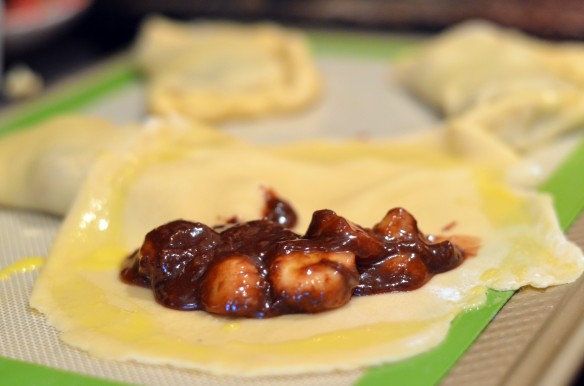 I had seriously been considering making hand pies for the 4th of July, and this was sort of a dry run for that. But now I think our party has gotten too large (at least 20 people) for me to make an individual pie for each guest and be able to serve them warm at the same time and still manage to have time to enjoy the party myself. Now I'm rethinking exactly what I'd like to do...maybe pie bars instead! If making these for a large crowd, I might recommend using pre-made pie dough to make things a little easier on yourself. However the homemade pie dough bakes up perfect and flaky, so maybe these are best served for a special close-knit family occasion or small dinner party.
Comments after eating this pie ranged from "Are you sure you want to go back to graduate school? You could make so much more money doing this!" to simple "Oh my God!" The hazelnut sugar that Dustin made for sprinkling over the tops gives the pies a nice crunch and gives them that little something extra— that something that restaurant-quality desserts have and homemade recipes often lack.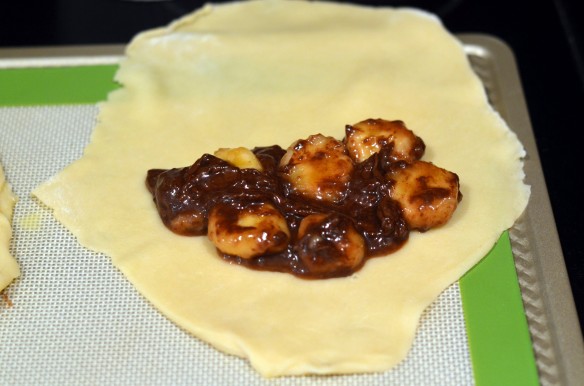 These were super delicious, but I'm glad the recipe only made four because I would definitely gobble another one down the next day, which I really don't need. Good thing we went to a kick-butt spin class Sunday morning before eating these, but I don't think it was enough to justify eating two of these!
Banana Nutella Hand Pies
yields four large hand pies
Crust
1 1/4 cups + 1 tablespoon all-purpose flour
3/4 teaspoon salt
7 tablespoons of unsalted butter, very cold and cut into 1/4" pieces
1/4 cup shortening, very cold and cut into pea sized pieces
1/4 cup ice water
In the bowl of a stand mixer, combine the flour and salt on low speed.
Slowly add in the pieces of butter on slow speed.
Add in the shortening pieces and mix until coarse crumbly mixture is formed.
Slowly add in the water and mix until a dough forms.
Divide the dough into four equal balls and wrap in plastic.
Refrigerate for at least an hour to let the fats solidify for a flakier pie dough.
Remove the balls from the fridge and let sit at room temperature for about 10 minutes before rolling out on a lightly floured surface to circles that are approximately 6 1/2" in diameter.
Transfer to a parchment paper or silicone mat-lined baking sheet.
Egg Wash
1 egg, lightly beaten
1 tablespoon of water
Mix the egg and water together in a small bowl.
Using a pastry brush, brush the egg wash around the edges of the dough circle.
Filling
2 very ripe bananas, thinly sliced
2 tablespoons butter, melted
3 tablespoons brown sugar
1 teaspoon Cointreau
1/4 cup Nutella
In a medium sized bowl, pour the melted butter over the sliced bananas.
Add in the brown sugar, Cointreau, and Nutella, using a spoon to lightly mix everything together and cover the bananas.
Spoon the mixture onto one half of the dough circle.
Fold over the other side of the dough over the filling and press edges (lined with egg wash) together. Crimp edges together with a fork.
Cut two small 1/2" slits in the tops of the hand pies to let out steam during baking.
Hazelnut Sugar
1/4 cup raw turbinado sugar
1/4 cup hazelnuts
Process the sugar and hazelnuts in the bowl of a food processor until desired texture is achieved.
Baking Instructions
Generously sprinkle hazelnut sugar on top of pies.
Place pies in the refrigerator for at least 2 hours, so they will maintain their shape when baked. The dough will be quite soft after being worked with so much.
Preheat the oven to 375º.
Bake for 20-22 minutes. Nutella will probably be bubbling from the slits.
Allow to cool for 20 minutes before serving with ice cream and even more hazelnut sugar. Best eaten soon after baking, but these hand pies can be reheated in the oven the next day.
slightly adapted from More From Macrina Cookbook by Leslie Mackie
Sorry there is no final picture of these guys since we baked them up at our neighbor's place without the camera, but let's just say they looked pretty epic!