Maple Ice Cream with Maple Creme Cookies
The other day Dustin was complaining that there was no more snickerdoodle ice cream left and that I should have made more. I completely surprised him when I opened the freezer and said, "I don't have snickerdoodle ice cream, but I do have maple syrup ice cream complete with maple creme cookies." He was pretty floored that I happened to have made ice cream that day without telling him!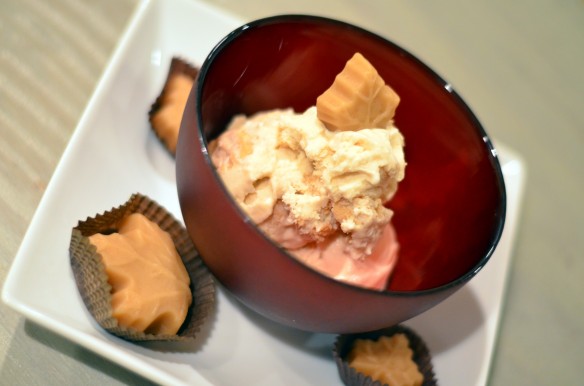 This ice cream is completely sweetened with only maple syrup and really has the perfect amount of sweetness. In keeping with my tradition of adding cookies and other desserts to ice cream, I added some of the maple creme cookies we brought home from our trip to Canada in April. We seriously have so many maple cookies and candies lying around our house from that, it's ridiculous!
Maple Ice Cream
1 3/4 cups heavy cream
1/2 cup milk
1 cup maple syrup (grade B will give stronger flavor)
1/2 teaspoon vanilla extract
1/8 teaspoon salt
8 maple creme cookies, roughly chopped
Combine all ingredients except cookies in a large bowl. Whisk until smooth.
Pour mixture into ice cream maker and churn according to manufacturer's instructions.
In the last five minutes of churning, add in the cookies pieces.
Transfer to a freezer-safe container and let freeze overnight.