Snickerdoodle Ice Cream
Finally I made snickerdoodle ice cream! Since complaining about the ice cream shop in Seattle being out of their signature flavor, we have since made it back there and tried it. It was good ice cream, but for some reason I was under the impression that it would have chunks of snickerdoodle cookie in it. Well it didn't, so I was disappointed and vowed I would make it better. I truly believe all ice cream tastes better when it has chunks of other things in it (apple fritters, red velvet cupcakes, and a variety of cookies, for example).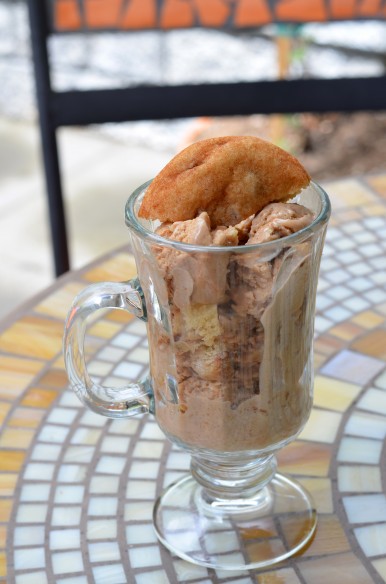 Dustin claimed this ice cream was better than the Top Pot Apple Fritter Ice Cream. I honestly can't remember the exact flavor of that ice cream, but they are actually pretty similar in flavor profile— lots of cinnamon. For this ice cream, I made a custard with egg yolks, and that last time I didn't. Both methodologies for making ice cream are legit and make delicious ice cream, but someone suggest that maybe using egg yolks makes it more rich. I'll continue to use both strategies depending on my mood, as I've been happy with both styles.
The best part of this ice cream was the ratio of ice cream to cookie. I added lots of cookies to ensure that there was a little bit of cookie in each and every bite! Cookies have always been my favorite, go-to, comfort dessert, but homemade ice cream is quickly rising in popularity on my list, especially in the summer months. Ice cream like this is a way to combine my love for both!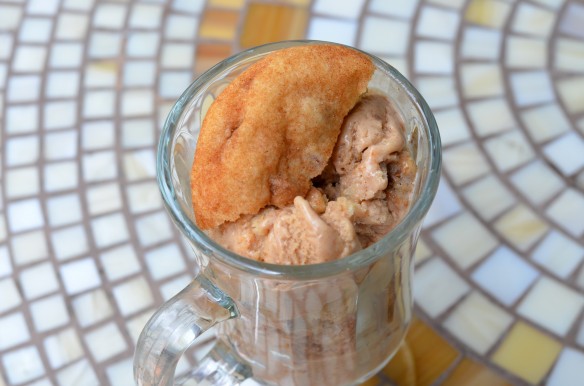 Snickerdoodle Ice Cream
1 1/2 cups milk (I used 2%)
1 cup heavy cream
1 cup granulated sugar
2 large egg yolks
1 teaspoon vanilla
1 1/2 tablespoons cinnamon (cut back if you don't want as strong of a cinnamon flavor)
approximately 10 1 1/2" snickerdoodle cookies, roughly chopped
In a medium sized saucepan, combine the milk, heavy cream, and sugar, over medium-high heat until the sugar is dissolved and the mixture is almost boiling.
In a small bowl, whisk the egg yolks together. Slowly add 1/2 cup of the milk and cream mixture to the eggs, mixing and making sure to take things slowly so the eggs don't curdle.
Turn down the heat on the saucepan, and slowly add the egg yolk, milk, cream mixture back to the saucepan, stirring constantly.
Gradually raise the temperature, stirring constantly until the mixture thickens and coats the back of a spoon.
Pour into a bowl and whisk in the vanilla and the cinnamon. Allow to cool to room temperature and then cover with plastic wrap and place in the refrigerator to chill thoroughly (over night is best).
Churn the ice cream according to ice cream maker's instructions. In the last 2-3 minutes of churning, add in the cookie chunks.
Use a spatula to transfer the ice cream to a freezer safe container, place in the freezer, and allow to freeze for at least 6 hours before serving (over night is also best for the best ice cream texture).