Extra Large Peanut Butter Cookie
Right after the 4th, both Dustin and I got sick. I told him the benefit of him having to take a sick day is getting to eat freshly baked treats, straight out of the oven. I didn't want to do too much baking since I didn't feel stellar either, plus I couldn't make desserts for other people since I still might be contagious. The absolute last thing we needed around the house was an entire batch of cookies.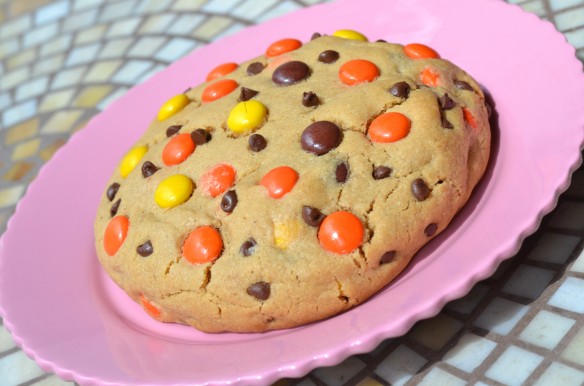 While going through the cabinets, I noticed a partially consumed box of Reese's Pieces from some past baking adventure— definitely not enough to include in a batch of cookies, but enough to make a giant cookie for the two of us. Plus, with leftover mini peanut butter cups from the peanut butter fudge ice cream, I knew we were in for an epic cookie. The inside is soft and slightly gooey while the outside has just a tad of a crunch. I'm really impressed such a large (and really thick!) cookie baked so well throughout! I see more giant cookies in our future! Here's a picture next to the plate for a little size comparison.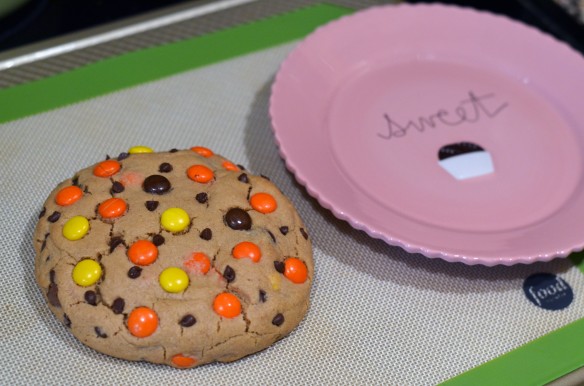 We ate half of this cookie right after I baked it and polished the rest off after dinner. We were sick, so we could eat whatever we wanted without guilt, right?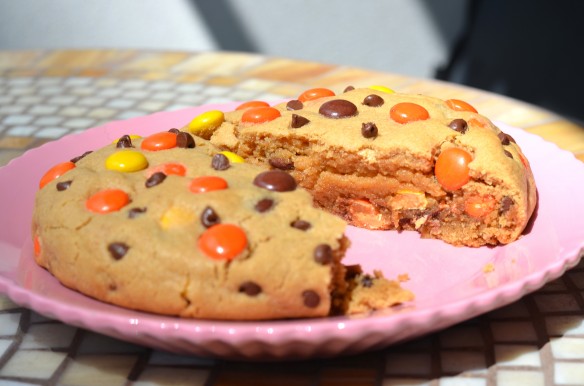 Extra Large Peanut Butter Cookie
yields 1 giant cookie
2 tablespoons unsalted butter, softened
2 tablespoons granulated sugar
2 tablespoons packed light brown sugar
2 tablespoons beaten egg
1/2 teaspoon pure vanilla extract
2 tablespoons creamy peanut butter
1/2 cup all purpose flour
1/4 teaspoon baking soda
1/4 teaspoon salt
1/4 cup Reese's Pieces
1/4 cup mini chocolate chips
1/4 cup mini peanut butter cups
Preheat oven to 350º. Line a baking sheet with parchment paper or a silicon baking mat.
Cream the butter and sugars until light and fluffy using a hand mixer.
Add egg and vanilla, mixing thoroughly.
Stir in peanut butter.
Mix in the flour, baking soda and salt until just combined.
Fold in the Reese's Pieces (reserve about 15 or so for pressing on top), chocolate chips, and mini peanut butter cups.
Roll into a tall, thick ball, then place on baking sheet and press the remaining Reese's Pieces on top.
Bake for 18-20 minutes until golden around the edges and the top is just hardened.
Allow to cool on the baking sheet for 10 minutes before digging in so the soft middle has a little bit of a chance to set.
slightly adapted from Picky Palate