Jalapeño Cheez-Its
With the leftover cheddar and Red Leicester cheese from the red, white and bleu macaroni and cheese, I decided there was no better time than now to make homemade Cheez-Its. I also had a random jalapeño in the fridge.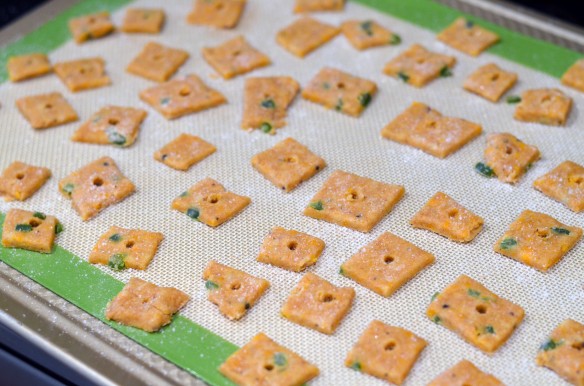 My Cheez-Its aren't the prettiest. One of the few kitchen gadgets I haven't managed to collect over the last couple of years is a pastry cutter to make the cute fluted edges, so I just used a pizza cutter. It worked just fine. I also didn't do the best job of cutting them the same size. Some were huge while others were tiny. It seemed the more I tried to make them uniform, the worse I was at it, so I gave up trying to make them identical. In the end, I think it gives my Cheez-Its a little character and a slightly rustic look. The smaller ones also got crispier, which is a good thing if you are in a mixed household like us, where one person prefers super crunchy and the other prefers slightly softer.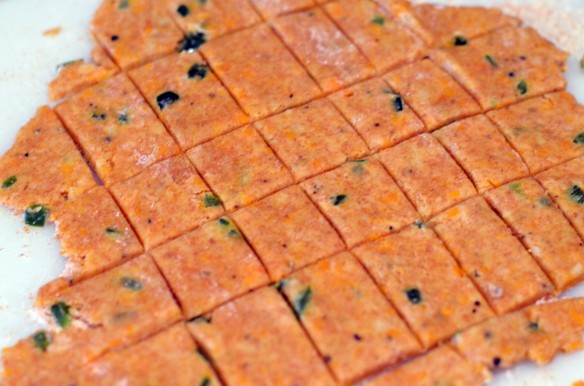 Jalapeño Cheez-Its
yields: I honestly have no idea since I ate so many before I had the chance to count, but two cookie sheets worth :)
7 ounces shredded cheese (I used Red Leicester and extra sharp white cheddar, but I think Monterrey Jack would be good too)
4 tablespoons unsalted butter, at room temperature
1/4 cup + 2 tablespoons whole wheat flour
2 tablespoons cornstarch
2 teaspoons salt + more for sprinkling on top
1/2 teaspoon pepper
1 jalapeño, seeded and finely diced
2 tablespoons cold water
In the bowl of a stand mixer fitted with a paddle attachment, combine the cheese and butter until smooth.
Add in the flour, cornstarch, salt, pepper, and jalapeño and mix on medium speed until uniform.
Add in the water, and mix to form a dough.
Wrap the dough in plastic wrap and chill in the fridge for 45 minutes.
Preheat the oven to 375º. Line two baking sheets with parchment paper or silicone lined baking mats.
On a lightly floured surface, use a rolling pin to the roll the dough out to approximately 1/8" thick, then use a pastry cutter, pizza cutter, or even a sharp knife to cut out squares.
Transfer to baking sheets. Use a toothpick and wiggle it around to create a hole in the middle of each cracker. Sprinkle with additional salt.
Bake for 13-16 minutes to desired crunchiness.
Cool on the pan for several minutes before enjoying! Store in an airtight container at room temperature for up to 3 days (there are no preservatives in them, so they could get moldy if left longer).
adapted from America's Test Kitchen