Momofuku Everything Bagel Bombs with Bacon-Scallion Cream Cheese
Such a simple idea— bake cream cheese inside bagel dough so that when you bite in, warm cream cheese explodes all over your tastebuds— but so brilliant. What else would I expect from Momofuku? The more I try from their cookbook, the more sad I grow that I didn't choose to go to school in New York, so I could be a stone's throw away from Milk Bar. Then I remember the Los Angeles weather (particularly in the winter), and I'm glad to bake Momofuku treats in my own kitchen (and stop by the real one on vacations to NYC, of which I see many in our future).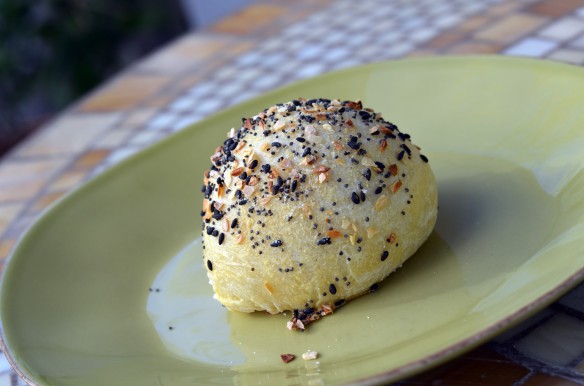 A plus for bagel bombs over regular bagels? They are even easier to make! I'd totally make these again, maybe with a smoked salmon filling, or maybe as a sweet bagel. I seem to remember some strawberry ones at the Milk Bar when we stopped by.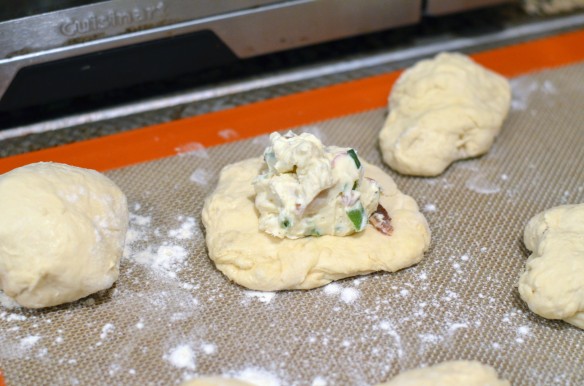 The absolute best part of these bagel bombs is that I made them during the day and wrapped them up before the egg wash and sprinkling step. The next morning I woke up and baked them fresh. Just make sure you let them cool a little before you eat them or you will burn your mouth on the delicious cream cheese filling!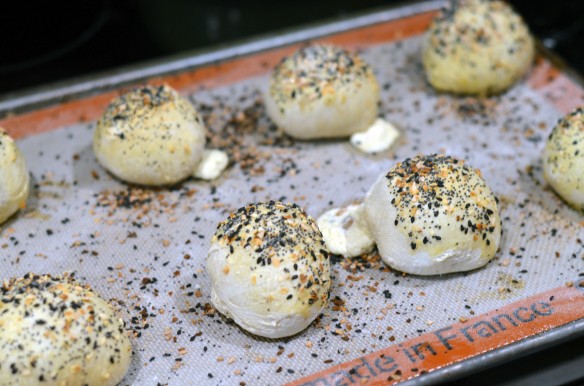 Momofuku Everything Bagel Bombs with Bacon-Scallion Cream Cheese
yields 8 bagel bombs
Bacon-Scallion Cream Cheese
4 strips of smoky thick-cut bacon, fat reserved
8 ounces cream cheese, softened (I used reduced fat)
1 teaspoon sugar
1/2 teaspoon salt
1 small bunch of scallions, thinly sliced
Cook the bacon up in a cast iron skillet. Remove from heat and allow to cool until crisp before chopping. Make sure to reserve bacon fat.
Using a hand mixer, whip the cream cheese and add the sugar, salt, and bacon fat until smooth.
Fold in the chunks of bacon and scallions.
Scoop out balls of cream cheese into 8 equal sizes and place on baking sheet lined with parchment paper.
Place in the freezer for at least an hour to harden before proceeding with the bagel bombs.
Dough
1 3/4 cups bread flour
1/2 teaspoon instant yeast
7/8 cup warm water
Mix the bread flour along with the instant yeast in the bowl of a stand mixer.
Slowly add in the water with mixer on medium speed. Allow the mixer to knead your dough for 7-8 minutes.
Transfer the dough to a lightly oiled bowl, cover and let rise for about an hour.
Preheat the oven to 350º while you make the topping (see below).
Divide dough into 8 balls, flatten each out, then place a frozen cream cheese ball in the middle and wrap the dough all the way around.
Once the topping is on the bagel bombs, bake for 20-25 minutes. The tops should be lightly golden (and you might have a few explosions of cream cheese coming out, but you can just push the cream cheese back in once slightly cooled).
Everything Topping
1 tablespoon sesame seeds
1 tablespoon poppy seeds
1 tablespoon dried onion
1/2 teaspoon garlic powder
1/2 teaspoon coarse salt
1 egg, lightly beaten
In a small bowl, combine the sesame seeds, poppy seeds, onion, garlic powder, and salt.
Brush the egg over the tops of the dough balls.
Sprinkle with everything topping.
slightly adapted from Momofuku Milk Bar Cookbook