Peanut Butter and Banana Granola
We've found this incredibly tasty chocolate almond granola at Trader Joe's, and now we constantly eat homemade yogurt parfaits for breakfast. I'm not going to lie that a large chunk of the reason I get excited about pulling out the blender every morning is the crunch of that granola. I started thinking what other flavors I'd want in my granola, and the answer was obvious to me— peanut butter. With banana.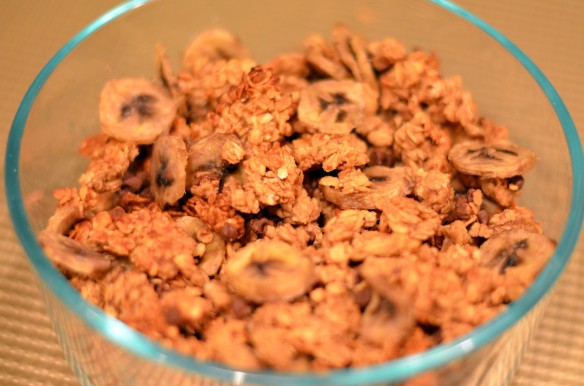 I love using mashed banana as a sweetener, plus the fact that it pairs so well with peanut butter was an extra bonus for this granola. I also added in homemade banana chips; however they do not get as crunchy as the ones you buy from the store (at least not using the method I tried, dehydrating them in the oven). They are significantly healthier than the store bought ones because you can control the amount of oil on them. Maybe that is why they aren't as crispy, but I'm glad for the health improvement even as they are.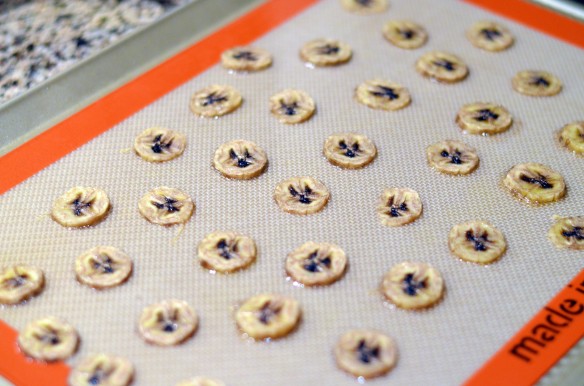 This granola taste great on top of berry flavored yogurt, but also paired with tropical flavors like mango and pineapple. As we've previously learned, pineapple and peanut butter are actually a great flavor combination.
Peanut Butter and Banana Granola
yields approximately 3 1/2 cups
2 1/2 cups oats
1 banana, mashed
1/4 cup maple syrup
2 tablespoons creamy peanut butter
1 tablespoon coconut oil
1/2 teaspoon vanilla extract
1 teaspoon cinnamon
1/4 teaspoon salt
1/4 cup mini chocolate chips
1/2 cup banana chips (recipe below)
In a large bowl, combine the oats, banana, maple syrup, peanut butter, coconut oil, vanilla, cinnamon, and salt until large chunks form.
Preheat the oven to 300º. Line a baking sheet with parchment paper or a silicone baking mat.
Evenly spread the granola chunks on the baking sheet, then bake for 30-35 minutes until the edges of the granola pieces start darkening. Check on the granola halfway through baking and break apart any unusually large chunks.
Allow to cool on the pan thoroughly.
Add in chocolate chips and banana chips.
Store in airtight container in the refrigerator to keep fresh longest.
Banana Chips
3 bananas
coconut oil (or canola or vegetable) spray
Preheat the oven to 250º. Line baking sheet with parchment paper or silicone baking mat.
Slice the bananas as thinly as you desire.
Spray the surface of the pan with coconut oil spray.
Place the slices on the baking sheet. Spray tops of bananas with coconut oil spray.
Bake for 1 1/2 hours or until desired texture is achieved.