Raspberry Chocolate Sweet Rolls
I've been dreaming of these raspberry breakfast rolls ever since I saw them in Food and Wine Magazine. I wanted to take them up a notch, so I added chocolate to the mix both inside the filling and in addition to a traditional icing in the form of chocolate merlot sauce from L'Ecole, previously seen here.
Get ready to hit the gym before or after preparing these rolls. Since preparing cinnamon rolls the morning you want to eat them is actually a real pain in the butt, I did the majority of the work on a Friday afternoon. I let the rolls do their first rise, then I stored them in the fridge overnight. The next morning I let them come to room temperature and do their second rise before baking them for a sweet brunch. We took Bonnie to the dog park, then came home and ate these on our patio. Perhaps we should have hit spin class instead, but that's neither here nor there.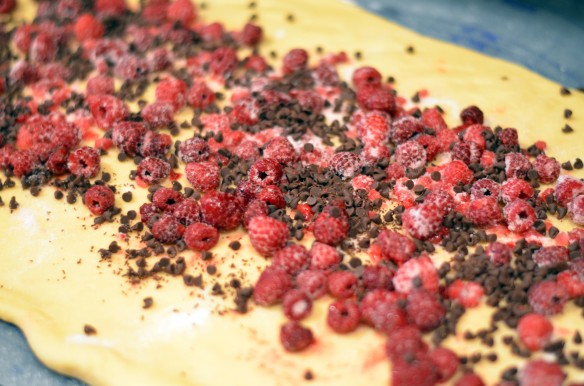 These look amazing coming out of the oven, and are definitely the prettiest, most legit looking sweet rolls I've made to date.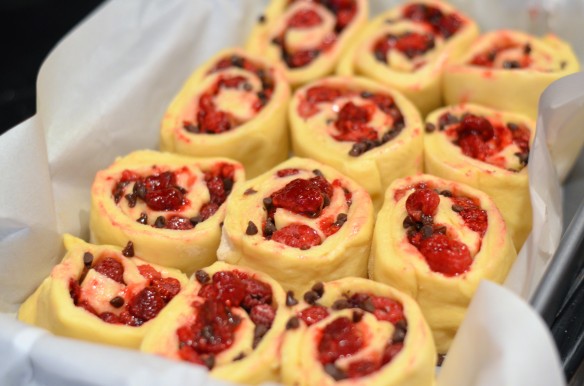 Apparently they freeze well, so I only iced the ones we were planning on eating, and I covered the rest and stored them in the freezer. I haven't pulled them out yet again to see if this statement on freezing is true, but perhaps in the next day or two I will.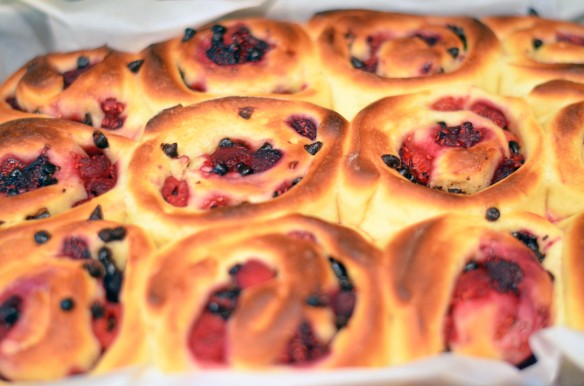 Raspberry Chocolate Sweet Rolls
yields 16 sweet rolls (I only fit 12 in my pan though)
Dough
1 cup milk
2/3 cup granulated sugar
2 packets active dry yeast
1/2 cup unsalted butter, softened
2 large eggs
1/2 teaspoon sea salt
4 1/4 cups all-purpose flour, plus more for dusting
Filling
1 12-ounce package  raspberries, unthawed
1/4 cup plus 2 tablespoons granulated sugar
1 teaspoon cornstarch
3/4 cup mini chocolate chips
Warm the milk in the microwave for about 45 seconds until warm but not hot.
In the bowl of a stand mixer fitted with a dough hook, add the warm milk, sugar, and yeast. Stir gently and let sit until foamy 5-10 minutes.
Add butter, eggs, and salt, and mix on medium speed.
Turn the mixer down to low. Slowly add in the flour and beat until a soft dough forms (2-3 minutes).
Turn the mixer to medium-high and allow the dough to be kneaded for about 10 minutes.
With floured hands, transfer the dough to an oiled bowl. Cover with a towel and leave in a warm space until dough has doubled in size (1-2 hours).
Line a 9"x13" baking dish with parchment paper and spray with non-stick spray.
Place the dough on a lightly floured surface and roll out to form a 10"x24" rectangle.
In a medium sized bowl, combine the raspberries, sugar, and cornstarch.
Spread the raspberry mixture over the dough, then sprinkle chocolate chips over the raspberry mixture, leaving approximately 1" along the long edge of the rectangle.
Roll the dough to create a 24" long log of dough.
Cut every 1 1/2" and place individual rolls in baking dish.
If you are making overnight, cover tightly and let sit in the fridge. If you are making immediately, let rise for at least an hour. If you are making overnight, pull these out of the fridge, let them come to room temperature and rise for a bit (at least 2 hours on the counter).
Preheat the oven to 425º. Cover with aluminum foil and bake for 20 minutes. Remove foil and bake for another 5 minutes to let the tops brown (I baked for about 10 minutes without foil and they got a little darker than I would have liked).
Allow to cool for at least 15 minutes before topping with icing and digging in. You don't want to burn your tongue on the hot filling!
Toppings
3/4 cup confectioners' sugar
1 1/2 tablespoons milk
1/2 teaspoon vanilla extract
1/2 cup L'Ecole Chocolate Merlot (or hot fudge) sauce
In a small bowl, combine the confectioner's sugar, milk, and vanilla and mix until smooth. Add more confectioner's sugar or milk until desired consistency is reached.
Diagonally drizzle icing over roll, followed by chocolate sauce in the other direction.