Steaks with Roasted Garlic Gorgonzola Butter
There is a joke here in Seattle that summer starts on July 5. Last year that was no joke at all. I was literally wearing a sweatshirt and jeans when we watched fireworks last year. Well that is not the case this year. Summer has started! Over the last few days it has reached 90 degrees several times, and we are supposed to be in the 80s for most of the extended forecast. That really isn't that hot for a Texan or compared to what some parts of the country are dealing with right now, but when you don't have air conditioning or even ceiling fans, things can get a little unpleasant. The stagnant air is what kills me. But I'm glad we can consistently drive around in the convertible, and we can grill any time we'd like!
We've been looking for some steak ideas to again use the fancy salts Dustin bought me last Christmas, but we didn't want just plain steak. This is where roasted garlic Gorgonzola butter stepped in.
Early in the day, I chopped off the top of a clove of garlic, rubbed some olive oil all over it, wrapped it in aluminum foil and roasted it in the oven at 350º for about an hour until the whole apartment smelled like delicious roasted garlic. When I pulled the garlic from the oven, I also set out a stick of butter and 1/2 cup of gorgonzola to soften.
Once the garlic had cooled and the cheese and butter reached room temperature, I combined everything in a small bowl along with some salt, pepper, and about a tablespoon of chopped parsley until it was smooth.
I spooned the soft butter mixture onto a sheet of wax paper, using the paper to form it into a log shape and then completely wrapped it up. I allowed the butter to firm up in the fridge for several hours before using.
Dustin took an enormous bone-in rib eye and grilled it to medium rare on the grill. While the steak was resting, we added pats of butter to the top at which point they started to melt and be absorbed into the steaks. With the addition of the fancy sea salts, it was so, so good.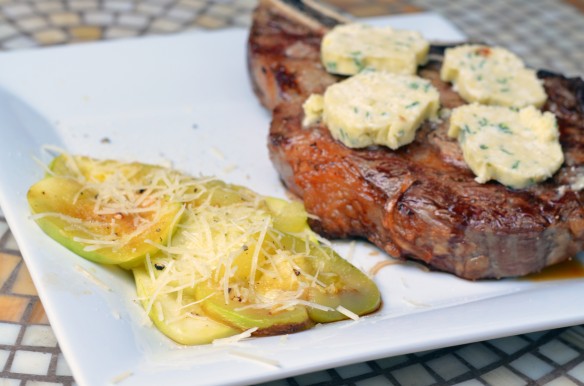 We also grilled up some zucchini with a little bit of garlic and parmesan on top as a side. Leftovers make a delicious sandwich spread!
Bonnie really wanted to get in on the action.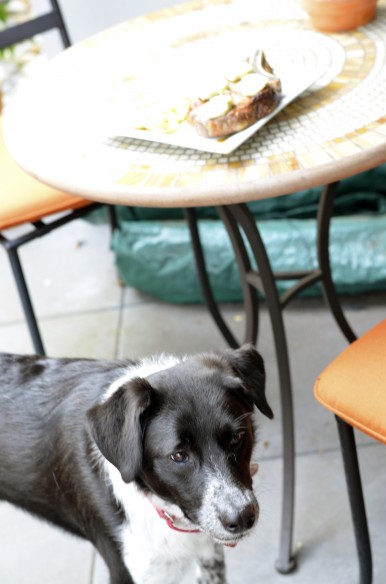 But she couldn't have any (sad face). Her parents, though, got to enjoy a light dessert of fresh Rainier cherries + Chocolate Merlot Sauce (from L'Ecole No 41).