Shredded Salsa Chicken Sandwiches + Goat Cheese Queso & Bacon Guac
I've been dreaming of this sandwich combination for quite some time, and now I have finally bit the bullet and made them. About time! Three delicious components equal one delicious Mexican inspired sandwich. Each component was solid on its own, but put together, they were mind blowing.
The spicy chicken is slow cooked in salsa all day, so it stays moist and tender. Then it is shredded into perfection. Every good sandwich needs cheese, and more specifically queso if it's Mexican inspired. Enter a thick and creamy goat cheese queso made smoky with paprika to cut the spice of the chicken. Top it off with bacon guacamole— just your standard guac made with bacon fat and chunks of crispy bacon to give it an extra crunch!
I purposely ate a small and healthy breakfast and lunch the day I made these because I knew this sandwich would be pants-popping good. I cooked the chicken in the crockpot on low for 8 hours, so I could smell it all day. I think I started sending Dustin text messages at 2:30 telling him it was about time to come home and eat. Obviously that wasn't possible, but I did tell him that if he didn't leave work by 5, there might not be anything left! I wasn't waiting any longer than that. Making the chicken in the crockpot actually allows this meal to come together really quickly in the evening. All I had to do was make the queso and the guacamole right before we were ready to eat, which didn't take more than 15 minutes.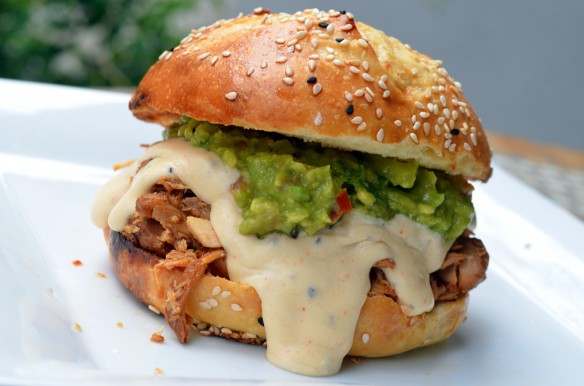 Serve excess queso and guacamole on the side with tortilla chips (and a margarita for good measure)!
Shredded Salsa Chicken Sandwiches + Goat Cheese Queso & Bacon Guacamole
serves 2
Chicken
1 pound boneless, skinless chicken thighs
1 16-ounce jar salsa (we used Frontera Chipotle salsa, but feel free to use your favorite to achieve desired level of spiciness)
2 teaspoons taco seasoning
Add the chicken, salsa, and taco season to a crockpot.
Cook on low heat for 8 hours.
Transfer chicken to a bowl and shred with two forks.
Goat Cheese Queso
2 tablespoons butter, melted
2 cloves garlic, minced
2 tablespoons flour
3/4 cup milk
6 ounces goat cheese, crumbled
2 teaspoons smoked paprika
salt, to taste
pepper, to taste
Melt the butter over medium heat in a medium saucepan.
Add garlic and cook for several minutes until fragrant.
Add in flour to create a roux.
Slowly add in the milk and cook until it begins to thicken.
Stir in the cheese.
Add paprika and season with salt and pepper to taste.
Bacon Guacamole
4 strips thick cut bacon + bacon fat reserved
2 medium avocados
1 tomato, chopped
1/2 red onion, chopped
1 lime, juiced
1/2 orange, juiced
2 serrano peppers, seeded and diced
small handful of cilantro
salt to taste
Cook the bacon in a cast iron skillet. Set aside to cool and reserve bacon fat.
Mash avocados.
Add tomato, onion, lime and orange juices, peppers, cilantro.
Chop bacon and add bacon chunks and bacon fat to avocado mixture.
Season with salt.
Assembly
2 buns, split and toasted
Add a generous serving of chicken to the bottom half of the bun.
Liberally top with queso and guacamole.
Eat!