Shrimp Cakes
Although we haven't been doing quite as well as we have hoped in our quest to eat healthier dinners, we haven't been complete failures either. One of the delicious, but healthy meals to come out of our kitchen recently was these shrimp cakes, made in a manner similar to the salmon burgers of yesterday.
Don't be alarmed by their green color— it's the cilantro and jalapeño, (probably not) poor quality shrimp. I made them early in the day and wrapped them in wax paper so we'd be all ready to go making dinner after our trip to the gym, and Dustin's first comment was "why are they green?". Vegetables!
These cakes also taste really good with Trader Joe's smoky peach salsa!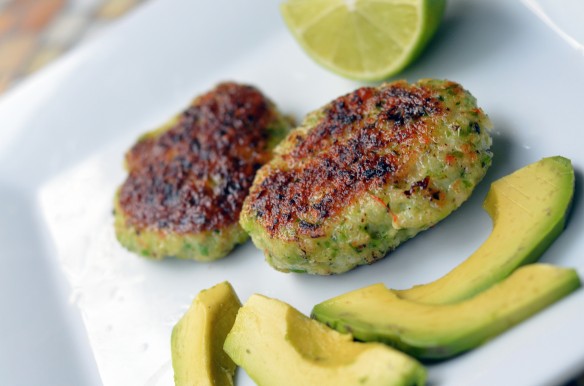 Shrimp Cakes
serves 2
3/4 lb shrimp, peeled, deveined, and cleaned (weight after peeling)
2 tablespoons cilantro
1 jalapeño, seeded and minced
1 clove garlic
3 scallions, chopped
1/4 cup panko bread crumbs
1 small avocado, sliced
Process the shrimp, cilantro, jalapeno, scallions, and garlic in a food processor until a sort of shrimp paste forms.
Mix in the panko, then form into 4 equally sized patties.
Cook on a cast iron skillet over medium-high heat until browned and cooked all the way through.
Serve with avocado slices.
slightly adapted from Skinny Taste