Black Bean Patties & Harissa Cream + Caramelized Balsamic Onions
These were supposed to be black bean sliders, a la Little Big's in Houston, but unfortunately we had the patties on the grill, the onions caramelized, and the harissa cream made when we realized our buns were moldy. Not a good feeling for me because I definitely ate one at lunch without paying attention.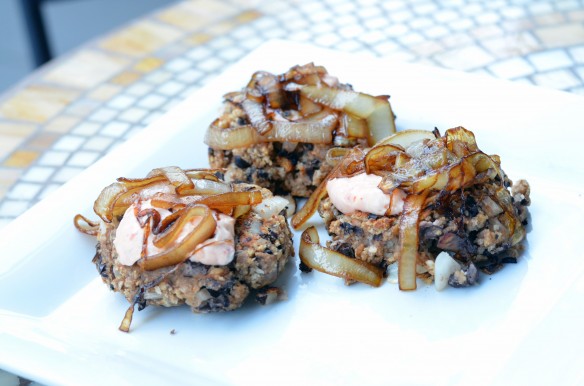 So we went the low-carb route for dinner instead. It's hard to compare them to what I used to eat at Little Big's since a key component was missing, but these were pretty tasty (and spicy!) black beans cakes. I made the patties and the cream sauce spicy, so we actually turned to the "medium" hot salsa and tortilla chips we were eating on the side to take a break. You know something is pretty spicy when you are using salsa to cool your mouth down! Eating ice cream for dessert also helps!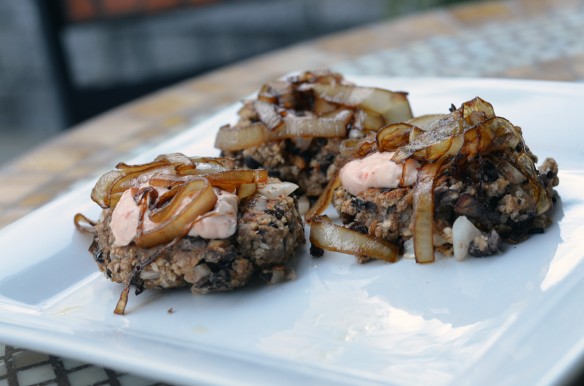 Black Bean Patties & Harissa Cream + Caramelized Balsamic Onions
yields 6 slider sized patties
Patties
1 15-ounce can black beans, rinsed and drained
1/2 yellow onion, chopped
1 teaspoon cumin
1 teaspoon chipotle powder
1/2 teaspoon cayenne pepper
2 cloves garlic, crushed
1 large egg
1 cup Panko bread crumbs
salt
pepper
Mash the black beans with a fork in a medium sized bowl.
Add in the onion, spices, egg, and bread crumbs. Mix until everything is incorporated.
Form into patties and wrap in wax paper and place in a plastic bag. Store in the fridge for at least half an hour.
Cook the patties on a cast iron skillet over medium heat for about 4 minutes on each side.
Serve with harissa cream and caramelized onions (see below).
Harissa Cream
1/2 cup sour cream (we used light)
1 1/2 teaspoons harissa cream
pinch of salt, to taste
Whisk all ingredients together in a small bowl until smooth.
Caramelized Balsamic Onions
2 tablespoons olive oil
1 yellow onion, sliced
1 teaspoon sugar
1 tablespoon balsamic vinegar
Heat olive oil over medium-high heat on stove.
Once hot, add in onions and stir to coat with olive oil.
Add in pinch of sugar and turn down to medium.
After about 10 minutes add in the balsamic vinegar.
Continue to cook for 10-15 minutes or until onions have significantly reduced and desired caramelization is achieved.