Frosted Animal Cookie Ice Cream
I probably say this about every ice cream I make, but oh my God, this is the best ice cream EVER! It's a sugar cookie flavored ice cream with chunks of those addictive little frosted animal cookies (homemade ones I might add, which you can read all about right here), and lots of sprinkles!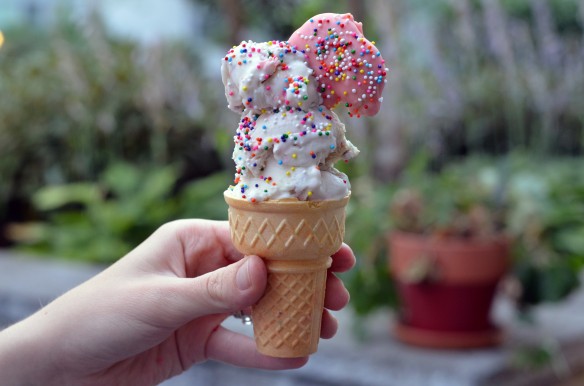 I based the ice cream recipe off of the cake batter ice cream I posted last summer, which I find makes an incredibly creamy and thick ice cream without having to make a true custard with eggs. And it tastes just like sugar cookie dough. I could not stop eating off the ice cream maker paddle :) The only way I can imagine this ice cream tastier is to add in some frosted cookies, which luckily I was able to do!
Frosted Animal Cookie Ice Cream
2 cups whole milk
2 tablespoons cornstarch
1/4 cup granulated sugar
1 1/4 cups heavy cream
1/4 teaspoon salt
3 tablespoons cream cheese, softened
1 1/4 cups sugar cookie mix
20 homemade Frosted Animal Cookies (if you use store bought you may want more, as my cookies are thicker than the ones available for purchase), roughly chopped
sprinkles
In a small bowl, combine 1/4 cup of milk with the cornstarch and mix until smooth. Set asdie.
In a large saucepan over medium-high heat, combine remaining milk, heavy cream, sugar and  salt. Bring to a boil and cook for 2 additional minutes.
Turn temperature down, stir in cornstarch mixture then bring back to a boil for 1 minute.
Gradually whisk in cream cheese and cake mix, then pour into a large heat-safe bowl.
Let mixture come to room temperature before covering and letting sit in the fridge overnight to chill for best flavor.
Process in ice cream maker according to manufacturer's instructions.
Add the cookies and sprinkles in last 5 minutes of churning. I added about 15 cookies total.
Transfer to freezer safe container and let harden in the freezer for several hours (or eat immediately for perfect soft serve texture).