Frosted Animal Cookies
I swear those little frosted animal cookies have this drug-like addicting quality to them because every time I pass by them at the store I have this strange and inexplicable feeling to always want to buy them now. Fortunately, Whole Foods, where we do the majority of our grocery shopping, doesn't sell them, so I just have to drool over them when I walk through the aisles of Safeway to pick up a last minute or forgotten item. If Whole Foods sold them I might be in trouble. Sorry if you've read that story before.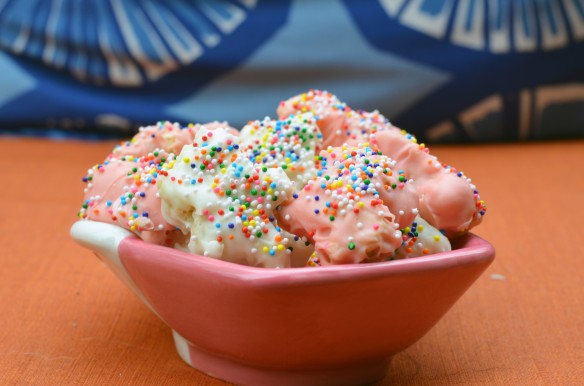 I have at least half a dozen recipe ideas that involve these cookies in some way, shape, or form (the first were these truffles), and I am trying to exhibit self control and spread them out over time. But first I figured I might as well try to make the basic frosted animal cookie from scratch as a fun little challenge. I'd like to think they are a little healthier, too, but they do use Wilton candy melts because that, in my humble opinion, is the only way to get the right flavor for the icing. Homemade royal icing simply will not do.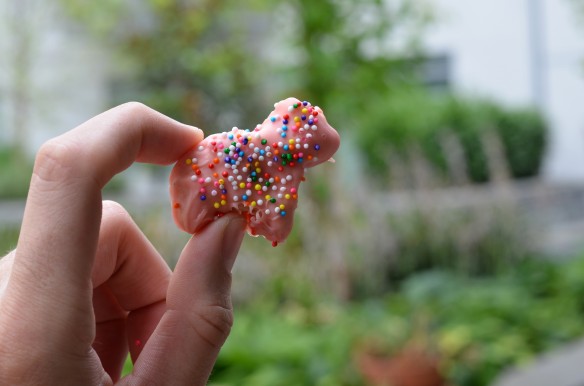 My cookies are a little thicker and puffier than the store bought ones, which means they aren't quite as crunchy, but I think they taste way better. I'm actually a little embarrassed to tell you where I got the base recipe that I adapted to make these cookies. I got it— wait for it— from the label of my body wash. Yes, body wash. I love the body washes from Philosophy because they smell exactly like my favorite treats, ranging from margarita to cinnamon roll to red velvet cake and yes, pink frosted animal cracker (they use the word cracker, but it should totally be called cookie— maybe it's a copyright issue or something). Perhaps smelling this intoxicating scent every day in the shower is what has made me obsessed with these little cookies. I thought that using treat flavored body wash might cut back on my cravings for sweets, but perhaps it's the opposite. In fact, I often find myself daydreaming about desserts and have come up with some of my best ideas, or so I think, when I'm in the shower. The recipe on the bottle wasn't perfect. It didn't have any sugar— can you say weird? I guess that's the reason they used cracker. Well I made cookies by adding sugar to the mix. Even though I knew adding the coating to them would make them sweet, I couldn't get over not putting sugar in the cookie part!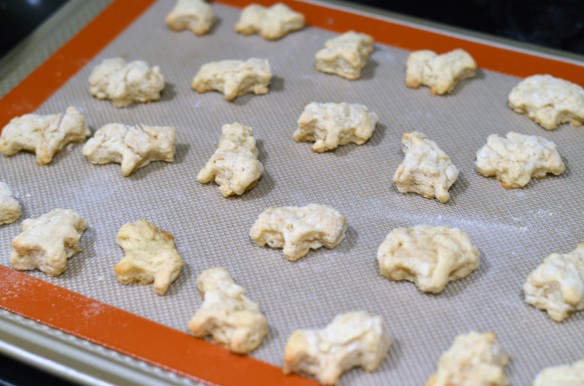 Both Dustin and I agree— success! Come back tomorrow for the next recipe involving these delicious little morsels.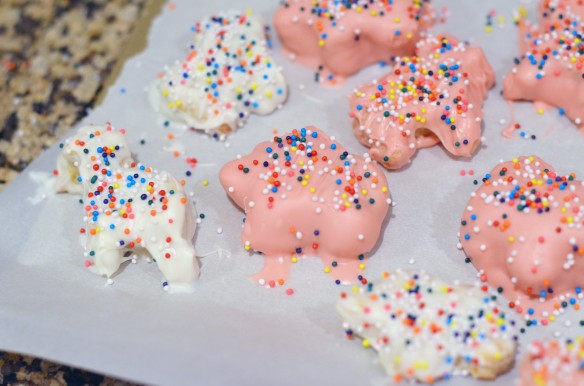 Frosted Animal Cookie
1 1/2 cups all-purpose flour
1/3 cup granulated sugar
1/2 teaspoon baking soda
1/2 teaspoon salt
6 tablespoons unsalted butter, cut into pieces
1/4 + 2 tablespoons buttermilk
2 teaspoons vanilla extract
1 12-ounce bag pink Wilton candy melts*
1 12-ounce bag white Wilton candy melts*
2 ounce bottle of rainbow non-pareils
Preheat the oven to 400°. Line two baking sheets with silicone baking mats or parchment paper.
Combine the flour, sugar, baking soda, and salt together in a medium sized bowl.
Cut the butter into the dry mixture and blend until it resembles a coarse sand.
Add in the buttermilk and vanilla extract and stir until a dough is formed.
Roll out the dough onto a lightly floured surface to approximately 1/4" thick. Cut out using animal shaped cookie cutters**.
Bake for 7-8 minutes until lightly browned.
Allow to cool on pan for several mintues before transferring to a wire baking sheet to cool thoroughly.
Reline the cooled baking sheets with wax paper.
Melt the candy melts into two small bowls according to package instructions. Dunk each cookie in the candy melt (half in pink, half in white) using a fork. Shake off excess then place on baking sheet. Sprinkle with non-pareils.
Place in the fridge for about 15 minutes or until the coating has hardened before eating. Store in the fridge, so they don't melt, but allow to sit out for a few minutes before eating.
* The Michael's store by us has an aisle where literally half of the space is dedicated to Wilton candy melts. They have every color you could possibly dream.
**There's a cute inexpensive Noah's Arc cookie cutter set on Amazon that I purchased for this use (the arc looks more like a mushroom than an arc, by the way, but that one doesn't get used). Now that I bought a special tool to make these cookies, I guess I will have to break my self-imposed rule of never making something twice, so the tools won't be a waste of money (and so I can complete all of these previously mentioned ideas swarming around my head)!