Chocolate Turtle Bread
When I got back from my travels earlier this year, Dustin made me a sweet breakfast. I wanted to return the favor when he got back from his mini trip to San Antonio, so I made him this chocolate turtle bread. Dustin and I are both crazy about turtles the animals and turtles the treats. Chocolate, caramel, and pecans— you can't go wrong!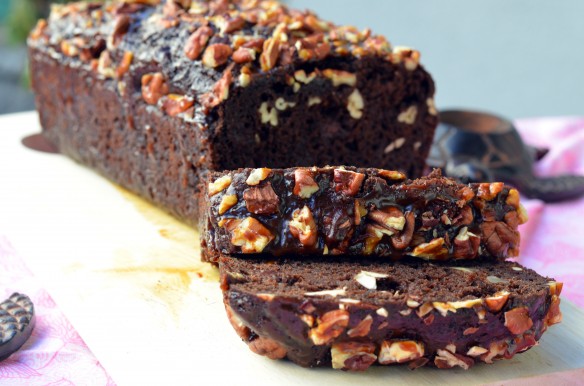 This bread is actually on the pretty healthy side, as a way to compensate for all of the desserts I created before the move. There is no butter to be seen in this recipe, but instead I used fat-free yogurt, applesauce, and just a tablespoon of oil to give it a bit of fat.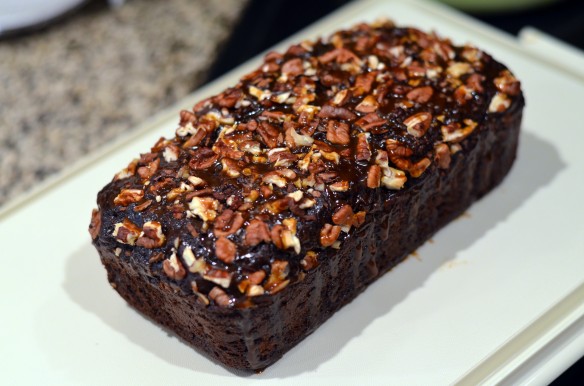 This bread is moist and tender, but retains its structure well when it's cut, a difficult feat for many moist breads. Without the pecans and the addition of caramel on top, this is a great base for a healthy chocolate bread.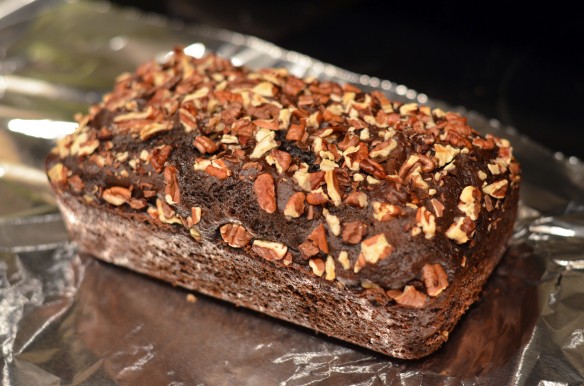 I think Dustin enjoyed his surprise breakfast after his trip! :)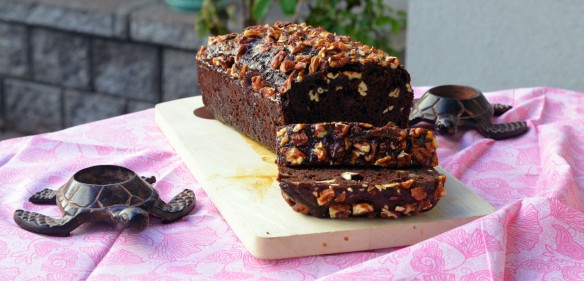 Chocolate Turtle Bread
yields 1 9"x5" loaf
1 1/4 cup all-purpose flour
1/2 cup unsweetened cocoa powder
1 1/2 teaspoons baking powder
1/4 teaspoon salt
2 large eggs, lightly beaten
1/2 teaspoon vanilla extract
1 cup fat-free vanilla yogurt
1 tablespoon canola oil
2 tablespoons unsweetened applesauce
1 cup granulated sugar
1/2 cup semisweet chocolate chips
1 cup toasted pecans, chopped, divided
1/4 cup caramel sauce, warmed
Preheat the oven to 350º. Spray a 9"x5" baking pan with cooking spray.
Sift flour, cocoa powder, baking powder, and salt together in a medium sized bowl.
In a large bowl, combine the eggs, vanilla extract, yogurt, canola oil, applesauce, and sugar using a whisk.
Slowly add the dry ingredients to the wet ingredients using a wooden spoon until barely combined (be sure not to overmix).
Fold in the chocolate chips and 1/2 cup of toasted pecans.
Pour into baking pan. Press remaining pecan pieces on top.
Bake for 55-60 minutes or until a toothpick inserted into the center comes out cleanly.
Cool on a wire cooling rack in the pan for at least an hour.  Carefully remove from pan.
Drizzle warm caramel sauce over completely cooled bread.