Fancy Brownie Sundaes
We've shared our fondness for brownie sundaes before, as they bring a sense of nostalgia to us from our early days dating back at Rice. Back then we stuck with super simple brownies, vanilla or chocolate ice cream, with a few sprinkles, a cherry, and maybe a little basic hot fudge. I'll always have a special place in my heart for those basic brownies, but this time around, I amped up the volume on that typical brownie sundae by using the white chocolate ice cream and roasted cherry brownies of the previous days. This super fancy dessert is the brownie sundae of a very expensive restaurant!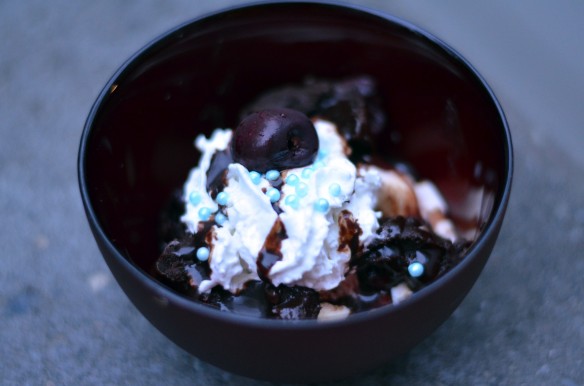 First, I started with two scoops of white chocolate ice cream with chocolate merlot sauce swirls. Then I added chopped roasted cherry brownie to the top along with a dollop of whipped cream, an extra drizzle of chocolate merlot sauce, some pearly blue sprinkles, and one of the extra roasted cherries I saved from making the brownies.
Oh my God, this sundae was heavenly— literally the stuff dreams are made of!